Articles by "Jocelyn Mantakul"
Jocelyn Mantakul is a public affairs and marketing intern at Advocate Sherman Hospital in Elgin, IL. She is a senior at Northern Illinois University, and will be graduating with a BS in Organizational-Corporate Communication with a minor in Public Health. In her spare time, she enjoys volunteering, exploring different towns for the best donuts and hanging out with her friends.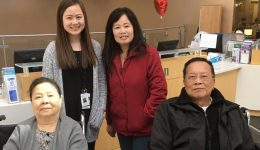 Peter Sundara has always had easy access to health care, which proved vital when he was found unconscious on his daughter's couch.