When is it time to consider a pacemaker?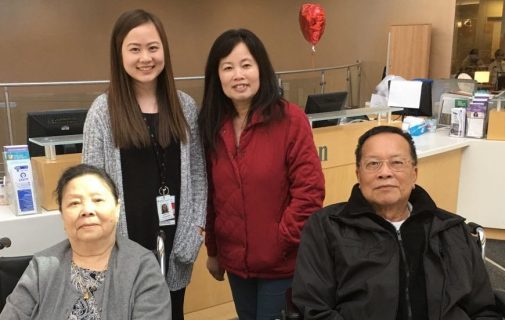 Having lived in Elgin for 34 years, Peter and Dorkeo Sundara have had easy access to health care because they live near Advocate Sherman Hospital and several Advocate Outpatient Centers. Living near these facilities allow Peter and Dorkeo to receive immediate care within minutes.
Last February, Peter was at his daughter's home having lunch, where he was found passed out on the couch by Dorkeo.
Peter was taken to Advocate Sherman. At the hospital, it was found that he had a mini-stroke caused by atrial fibrillation, according to Dr. Harshal Sheth, a cardiac electrophysiology physician at Advocate Sherman. Dr. Sheth realized that the atrial fibrillation had caused the stroke, so he gave Peter a heart rhythm monitor. Atrial fibrillations, or a-fib, are caused by irregular and rapid heartbeats, which will cause poor blood flow to the brain. Through the heart rhythm monitor, Dr. Sheth knew that a pacemaker was needed.
"A pacemaker will not eliminate atrial fibrillation, and it is not permanent. It simply provides a floor beneath your heart, like a safety net where you do not want to go under the floor or net" says Dr. Sheth.
There are many different types of solutions for treating atrial fibrillation. There are medications and procedures, but there is not a single one technique. It is very rare for patients to discuss the need for a pacemaker, for a small percentage of people will need a pacemaker.
According to Dr. Sheth, Peter needed a pacemaker because he found a pause that lasted five seconds from the heart rhythm monitor. In Peter's case, a pacemaker was needed.
Dr. Sheth's identification and correction of Peter's atrial fibrillation saved his life. "I am very grateful for Dr. Sheth. I would not be sitting here today if it weren't for him," says Peter. Peter's pacemaker correcting his abnormal heartbeat even made Dorkeo want a pacemaker, as well – even though she does not need one.
Dr. Sheth says being a cardiac electrophysiology physician is kind of like a puzzle and rewarding. "Going through medical school, there were areas where I enjoyed the procedure level, critical thinking aspect and the clinical situation" says Dr. Sheth. He found cardiac electrophysiology to have all these components, which led him to focus in this area. Practicing cardiac electrophysiology allows Dr. Sheth to get to know his patients and their family. It is important that the patient and his or her family are engaged and understand the type of care they are receiving and discussing.
Spending time with patients and not just popping in and out is something he values, which Peter and his family noticed. "He made the transition from monitoring my heart rhythm to implanting a pacemaker go by easily," says Peter.
Diabetes, obesity, sleep apnea and blood pressure are some of the causes of having a-fib, so getting checked out by your primary care physician routinely is very important. This may help lower the chances of an atrial fibrillation.
Find out your risk for heart disease by taking our simple and easy Heart Risk Assessment.
Related Posts
Comments
About the Author
Jocelyn Mantakul is a public affairs and marketing intern at Advocate Sherman Hospital in Elgin, IL. She is a senior at Northern Illinois University, and will be graduating with a BS in Organizational-Corporate Communication with a minor in Public Health. In her spare time, she enjoys volunteering, exploring different towns for the best donuts and hanging out with her friends.