New eyewear to detect stroke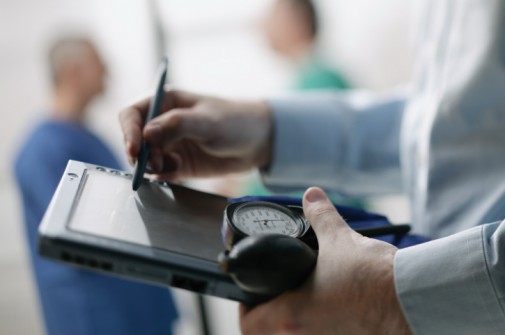 The key to correctly diagnosing a life-threatening stroke within minutes may be surprisingly simple. New research suggests a pair of goggles that measures eye movement could help doctors determine whether a patient is experiencing a really bad case of vertigo or a stroke.
The device known as a video-oculography machine is a slight modification of a "head impulse test," which is generally used for people who suffer with bouts of chronic dizziness or other inner ear-balance disorders.
The stroke-detecting machine works rather easily. Using a set of goggles that are hooked up to a webcam and a laptop with special software, researchers in the study were able to interpret data relating to three types of relevant eye movements that can help detect stroke.
The study, to be published in the April issue of the journal Stroke, was very small and involved only 12 participants (10 men and two women) who came into the emergency room at Johns Hopkins Hospital in Baltimore.
The patients reported symptoms such as persistent dizziness, darting eye movement, nausea, vomiting and trouble walking.
Researchers say the device detected that six of the patients had suffered a stroke while six had not. Subsequent magnetic resonance imaging (MRI) scans confirmed the machine got it right, in every case.
Dr. Thomas Grobelny, a neurointerventionalist with Advocate Medical Group, calls the small study promising.
"This is great news and a very innovative way to evaluate eye movement to detect stroke," says Dr. Grobelny. "Abnormal eye movement can be one of the first signs of stroke. However, the number of patients involved in this study is very small, and I am looking forward to results from a larger study before I am sold."
According to the National Centers for Disease Control and Prevention nearly 800,000 people in the United States have a stroke each year—resulting in about 130,000 deaths.
As with heart attacks, one of the crucial ways to help save lives when it comes to treating stroke is time.
According to background information contained in the study, Americans make 2.6 million ER visits every year for vertigo and dizziness. About 4 percent turn out to be stroke related. Dr. Grobelny says in many cases figuring out that a stroke has occurred often requires further testing, which can eat away precious time.
Right now, he says, MRI testing is considered the gold standard for assessing stroke. But it can take hours to complete.
What's Next?
It may be a while before the device is approved for use to help detect strokes. It still needs a stamp of approval from the U.S. Food and Drug Administration, which only recently gave the machine approval for use in assessing balance.
But lead authors for the study are already thinking big. They believe the test could one day be incorporated into a smartphone application.
Dr. Grobelny says if the same results are confirmed on a larger scale this could be a potential "game changer" in the treatment for stroke.
Related Posts
Comments
About the Author
health enews staff is a group of experienced writers from our Advocate Aurora Health sites, which also includes freelance or intern writers.