Boost your nutrition IQ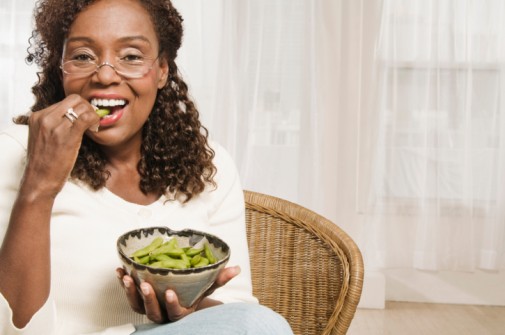 March is National Nutrition Month and a good excuse for re-examining what you put on your plate—and in your mouth. Registered dietitian, Dotty Berzy, at Advocate Trinity Hospital shares a few tips to help you stay nutrition savvy.
First Up
You don't eat many fruits and vegetables, but you take a lot of vitamins. Are you getting all the nutrients you need? She says no way. "Scientists can't copy what Mother Nature can do." While taking a vitamin will fill your body's need for a certain nutrient, like vitamin C, it doesn't match the power of an orange, which satisfies your requirements for vitamin C as well as fiber and potassium.
And besides getting these nutrients, you are also filling-up on something healthy, Berzy says.

Next
Get Your Plate in Shape, which is an annual campaign of the Academy of Nutrition and Dietetics.
The campaign encourages healthy eating and exercise habits for a healthier life. "Get Your Plate in Shape" stresses the importance of making informed food choices and developing sound eating and physical activity habits.
One way to make better choices is to eat more fruits and vegetables, which have been linked to a lower risk of cancer and heart disease. These foods also are packed with fiber, a nutrient that can help keep your stomach full and your appetite satiated so you crave fewer snack foods and baked goods.
For parents, eating more fruits and vegetables can also help fight childhood obesity, Berzy says. "Parents should be an example of health and happiness to their children. You can encourage kids to eat more vegetables by setting out ingredients so they make their own salad creations or allow them to choose individual fruits and use yogurt as dipping sauce," she says.
If fresh fruits and vegetables are unavailable or too pricey, it is just as healthy to buy them canned. Just make sure they are packaged in their own juice or water and not heavy syrup, Berzy says. But be mindful not to cook vegetables in water for more than 20 minutes. "Remember, mushy vegetables mean lost nutrients. I recommend steaming or grilling them," she says.
Finally
Don't forget about protein. In fact, one quarter of your plate should be a lean protein found in meat, chicken, fish and beans. "Red meat is the best source of iron for women. Just remember to buy the leanest cut you can find," Berzy advises.
For vegetarians, eating more fish is a great alternative to eating meat. Coldwater fish, such as salmon and sardines, contain omega 3 fatty acids, which are heart healthy and decrease your risk of stroke.
Berzy reminds us that diet and exercise work hand-in-hand. "When it comes to staying healthy, you can't control your genes," she says. "That is all the more reason to change the things we can control. The more colorful your plate is, and the more varied your exercise routine, the healthier you'll be."
Check out more healthy tips and treats for kids here.
Related Posts
Comments
About the Author
health enews staff is a group of experienced writers from our Advocate Health Care and Aurora Health Care sites, which also includes freelance or intern writers.