Early detection key for prostate cancer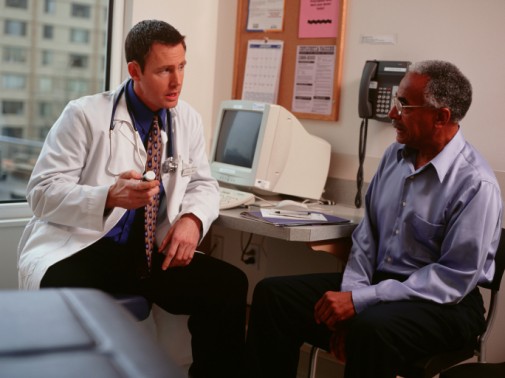 Thirty years ago, most men were usually diagnosed in advanced stages of prostate cancer, when a cure was impossible. Today, everything has changed.
Prostate cancer is the most common cancer in men in the United States, according to the U.S. Centers for Disease Control. Each year, more than 206,000 men are diagnosed.
But early detection and treatment has helped nearly 98 percent of men to survive 10 years after diagnosis, reports the American Cancer Society.
Prostate cancer is different from other cancers because it occurs more often in older men. Up to 50 percent of 80-year-old men will have some evidence of prostate cancer, but it tends to be less aggressive and grow more slowly. So, there may not be a need to diagnose or treat it.
By contrast, prostate cancer in younger men can be more aggressive and does require earlier diagnosis and treatment. Here's how:
PSA Test
A simple test known as PSA is largely responsible for raising awareness of early diagnosis for prostate cancer, leading to a 5-year survival rate of 100 percent.
PSA stands for prostate specific antigen, a protein produced by the prostate gland that can be measured to test for prostate cancer. An elevated PSA does not always mean cancer is present and may only mean that the prostate is enlarged. Urinary tract infection and sexual activity also can affect a PSA reading.
Digital Rectal Exam
A digital rectal examination is essential to fully evaluate the prostate and accurately diagnose prostate cancer. Warning, this may sound uncomfortable: To do the exam, the physician inserts a gloved finger into the rectum to feel the size of the prostate. If the prostate feels enlarged or has any lumps or tumors, this may signal cancer.
When the digital rectal exam or PSA is abnormal, doctors may take a biopsy of the prostate gland. This allows doctors to take a sample of cells from the prostate and observe any abnormal patterns that could lead to a cancer diagnosis.
Recommendations for Early Detection
Doctors recommend that men have both tests by the age of 50. A family history of prostate cancer nearly doubles the risk of getting it, so screenings should begin by age 40 for men whose fathers, grandfathers or uncles were diagnosed. Other experts suggest a baseline PSA at age 40, particularly for African-American men, who also at greater risk.
If diagnosed, treatment depends on the extent of cancer, the patient's age and other medical conditions.
Surgery and radiation are the primary methods for cure, and chemotherapy and hormonal therapy is reserved for circumstances in which prostate cancer has spread or when the cancer reoccurs after other therapies.
Although surgical treatment for prostate cancer is often preferred for younger, healthier men, particularly those under 70, radiation is often recommended for men over the age of 70.
When prostate cancer is confined within the limits of the prostate gland, the long-term results with surgery or radiation are excellent.
Consult your urologist for more information on prostate health.
Related Posts
Comments
About the Author
health enews staff is a group of experienced writers from our Advocate Health Care and Aurora Health Care sites, which also includes freelance or intern writers.