10-year-old faces adult changes after diabetes diagnosis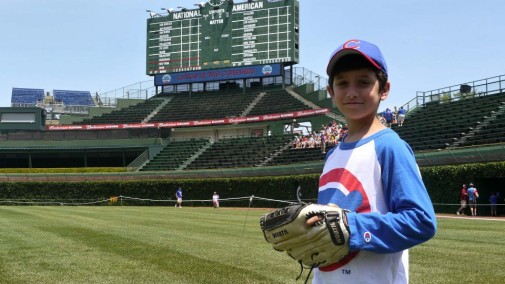 Ten-year-old Diego Diaz of Chicago is a soft-spoken, polite kid, a Chicago Cubs fan — and he's living with Type 1 diabetes. He was first diagnosed in December 2011.
When asked what he regrets most about the diagnosis, he is quick to respond simply: "I've lost the freedom of food."
The statement illustrates how much Diego has matured in the year he's been dealing with and learning about his condition. And he's one of the lucky kids — his parents watched his changing behavior and got him to his pediatrician before he was in any danger.
The American Diabetes Association estimates that one in every 400 children and adolescents has diabetes. That's about 215,000 people under age 20.
Type 1 diabetes is usually diagnosed in children and young adults. It develops when the person's pancreas cannot produce enough of the hormone insulin. Without insulin the body cannot convert sugar into energy. So the sugar just stays in the blood stream, raising the blood sugar level and increasing the risk of complications.
For many, like Diego, the symptoms are a surprise to parents.
"He started having to use the bathroom a lot, waking up in the middle of the night," says Diego's mom, Sara Diaz, who first noticed the symptoms on Diego's birthday. "He started having to drink a lot of water, all the time. I really noticed that because usually we have to fight to get him to drink just a little bit of water. And he'd finish it and say, 'I'm so thirsty, I want more.' "
At the same time, Sara noticed that Diego had become very irritable, having "crazy mood swings" and reacting strongly to situations that he normally wouldn't even notice.
With Diego's annual check-up approaching, Sara mentioned the symptoms to his pediatrician. After urine and blood testing, the physician diagnosed Diego with diabetes and sent him to Advocate Illinois Masonic Medical Center.
Dr. Madalina Mindrut of Advocate Illinois Masonic Medical Center says early detection of diabetes symptoms is the key to avoiding severe initial problems, including coma and death. Learning to manage and control blood glucose levels, patients can avoid possible complications later in life, including:
Heart disease
Nerve damage
Kidney damage
Blindness
Leg and foot amputations
Dr. Mindrut says Diego showed many of the symptoms to watch for:
Frequent urination
Excessive thirst
Extreme hunger
Weight loss
Fatigue
Irritability
Abdominal pain
Initially, Diego says he was surprised and angry that he'd been diagnosed with diabetes, though he didn't fully understand what it meant for him.
"I was really mad," he says. "They have a lot of charities for it, and any time you have charities, it means it's really, truly serious. I was really mad at myself, because I didn't know exactly why I got it."
Sara said she and Diego talked through his early feelings and has since adapted well to the diagnosis and the changes he's had to make.
"It's been a little harder for me, because I was used to going into the kitchen, kind of eating what I want," he says. "Now, I have to check my sugar, do the calculations and take my insulin [before I eat]. It's kind of getting in my way, a little bit. Sometimes, I just want to eat right away. So it's been a lot different now. But it's getting easier."
He's still active with sports — hockey, soccer and baseball — and not slowing down a bit. In fact, he's been inspired in his drive to be a professional athlete by Chicago Bears quarterback Jay Cutler, who also lives with diabetes.
As for his lost freedom with food, Diego says he's managing.
Related Posts
Comments
About the Author
health enews staff is a group of experienced writers from our Advocate Health Care and Aurora Health Care sites, which also includes freelance or intern writers.