Dangers of overscheduling your child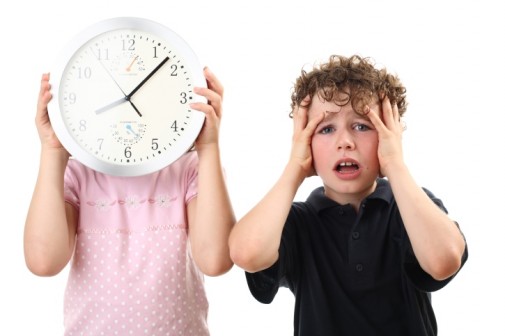 *Sophie is only 12 years old, but her schedule could rival most CEOs. Her day starts with play rehearsal every day before school at 7 a.m.
She plays basketball for her private school's team. So, she has practice two nights a week and games every other week.
Her accelerated classes mean her homework averages about three hours a night, which she squeezes in on the ride to and from basketball practice when she's able.
She recently made nationals for her science fair project. She spends at least 30 minutes a week rehearsing her presentation for the judges.
Sophie also has a choir concert coming up, featuring her solo. In addition to the hourlong practices she has after school twice a week, she also has private voice lessons for two hours once a week.
And that's just Monday through Friday.
Sophie's schedule is not uncommon for many children today. Welcome to the life of the overscheduled child.
Fact or fiction?
A poll by HealthAmerica from 2006 revealed that out of 882 children, 41 percent between the ages of 9 and 13 felt stressed all of the time or most of the time, because they have too much to do. Of those same children surveyed, 78 percent wished they had more free time.
Dr. Bobbi Viegas-Miller, a clinical psychologist with Advocate Medical Group in Park Ridge, Ill., says she sees this quite a bit in her practice. In fact, she recounts how she was contacted by a parent who had a child suffering from anxiety. The parent felt the child needed to come in for counseling, but the child couldn't fit the session in with playing a competitive team sport and all the other activities the child was involved in. "Not being able to prioritize counseling for emotional health needs due to a busy schedule is concerning," says Dr. Viegas-Miller.
Reality check
In the '80s and '90s, structured school sports only required 90 minutes a week, according to a survey by the University of Michigan. After that time period, it increased to 3 hours per week. The survey also found that children's unstructured free time had dropped by 12 hours per week. Meanwhile, time on homework has gone up 50 percent.
And that was more than 15 years ago. Since then, the jam-packed school schedule has only gotten worse.
Dr. Viegas-Miller says parents might benefit from a healthy bit of self-reflection on why they are driving their children so hard. "My sense is that in working with families, the parents are well-intentioned and want the best for their children. They want to offer their children all of the opportunities available to them," Dr. Viegas-Miller says. "While it may be well-intentioned, it may also be too much for children and have unforeseen negative effects."
"One thing they need to do is check in with themselves as parents," she adds. "Is the child asking for all these commitments, or are the parents feeling the need to keep up with the neighbors?"
If you feel your child's level of interest in activities is waning, this may be a sign your child is overscheduled. Some things Dr. Viegas-Miller encourages parents to be watchful of is their child's behavior when they're getting ready to leave for an activity. "Extra-curricular activities should be things children want to do," she adds.
The following signs may be telling:
Are they dragging, not wanting to go out the door?
Are they tired all the time?
Do they say they'd like more free time or time for other interests?
Are their grades slipping?
Do they show signs of depression, stress or anxiety?
Finding the balance
Overscheduled children may have a decrease in creativity, Dr. Viegas-Miller points out. They may have less of an ability to take initiative and may no longer know what to do with any free time they have.
Children with unstructured free time, on the other hand, have more time to process activities and learning. "They are more creative, self-driven, independent. Unstructured play time with friends can lead to better social skills," says Dr. Viegas-Miller.
Since every child is different, finding a balance that works for your child is key to making sure your child doesn't burnout.
"Are they able to balance extra-curricular activities with the priorities of school, friendship and family time?" Dr. Viegas-Miller asks. "If they have balance, it can work well, and each child will have a unique need for  how many structured activities and how much unstructured time they need."
*Name has been changed.
Related Posts
Comments
About the Author
health enews staff is a group of experienced writers from our Advocate Aurora Health sites, which also includes freelance or intern writers.