Get to know your food at the farmers' market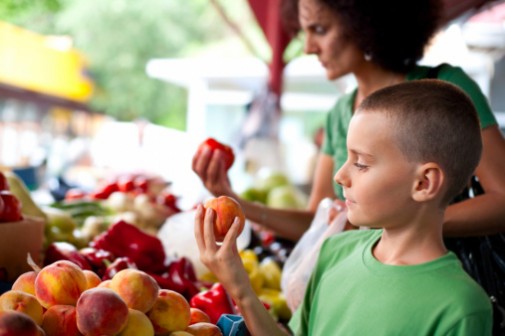 Our relationship with food has grown so distant and so technical that many Americans may have no idea where their food comes from. In our nation's food supply, fruits and vegetables travel, on average, 1,500 miles from the farm to our plates, according to the Harvard University School of Public Health.
From the day our food is harvested, it undergoes drastic changes in temperature and is often injected with additives to enhance its appearance and preserve it during travel. It's common for certain foods to lose nutritional value during the process.
And that transportation of goods can have an environmental impact as well. An estimated 5 percent of overall carbon dioxide emissions come from transporting food, Harvard reports. Packaging food accounts for another 7 percent.
Trends in the food industry reflect a growing number of consumers who are looking at their food more critically and asking a simple question: Where on earth — literally — did this come from?
To answer that question, all 50 states have launched some kind of branding campaign to help shoppers identify locally grown produce, like the "Where Fresh Is" logo that hit selected Illinois grocery stores this year. The National Restaurant Association's annual survey even found that serving locally sourced produce, meat and seafood was the top trend in 2011. And estimated sales for locally grown foods ballooned from $4.8 billion in 2008 to $7 billion in 2011, according to the U.S. Department of Agriculture.
But, perhaps, the most vivid indication that locally grown food is more than just a trend is the growth of a little community spot where consumers can get up close and personal with their food. That spot is the local farmer's market.
Today, there are 7,864 farmers' markets listed in the USDA's National Farmer's Market Directory. That's more than double the amount 10 years ago, and 10 percent more than were listed in 2011.
In addition to helping reduce carbon emissions from long-distance food, here are three ways to take advantage of your local farmers' markets this spring:
1. Learn what's in season
If your grocer sells it out of season, it probably comes from some far away land. Knowing which fruits and vegetables are produced in your area during certain times of year can get you closer to buying from the source. The same is true for knowing which produce grows best in your area's climate. This can also ensure that your food has the richest taste and has not been pumped with chemicals to give it a shelf life.
Knowing your area's food cycle can also open your eyes to new possibilities. Did you know that Illinois is the largest producer of pumpkins and horseradishes in the nation, according to the Illinois Department of Agriculture? Neighboring Wisconsin is the nation's top spot for cranberries, oats and snap peas, according to the state's Department of Agriculture, Trade and Consumer Protection. And Michigan is the nation's top producer of blueberries, as well as one of the nation's go-to state for sweet, crispy apples.
2. Support local farmers
Small farmers make less than $50,000 a year, but they are huge contributors to our food supply and our best bet for getting in-season meat and produce that's free of chemicals. That's why it's important to support local small farmers.
3. Learn how to pick the right produce
The kid stocking aisles at your local grocer might be able to share some insight on which fruits or vegetables are in season. But farmers' markets are ideal to meet farm experts to help you boost your food IQ.
Ask them about fruit and vegetable colors for ripeness. You can also ask your local farmer for clues about appropriate size, which could also indicate whether growth hormones have been added.
Related Posts
Comments
About the Author
health enews staff is a group of experienced writers from our Advocate Aurora Health sites, which also includes freelance or intern writers.