What your hip pain may be telling you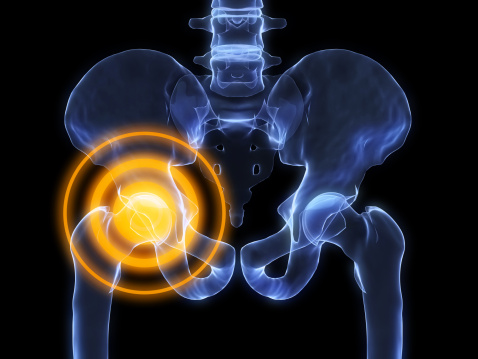 You might feel it when you're pivoting into your golf swing. Or maybe it happens when you do something as normal as turning from the stove to grab something on the counter.
For a lot of people who sit for long periods — at a desk, in a car, on an airplane — that's when they feel it: A sharp, stabbing pain or dull ache in the groin or along the outside of the hip.
[UPDATE: Latest hip replacement surgery has patients in and out same day]
Over time, the pain becomes intense enough that people give up on pastimes they love, like golf and traveling. Everyday tasks become more and more difficult.
Your problem could be FAI: femoroacetabular impingement. FAI occurs when the labrum, a thick cartilage that acts like a bumper cushion around the ball and socket hip joint, tears away from the socket. It's usually the result of deformities or an injury. The pain from this can be felt in the groin area and the outer hip.
Symptoms of FAI
Patients with FAI have similar symptoms and often share a common lifestyle. Symptoms include:
Sharp stabbing or dull, insidious onset pain in groin or outer hip
Discomfort while sitting, especially in low-seated vehicles like sedans, airplanes and desks
Clicking, popping, snapping, catching, locking in the hip, or in the vicinity of the hip
Many FAI sufferers spend much of the day in a seated position, working on a computer. Or they may be "road warriors" who travel a great deal, either commuting to work or flying as part of their jobs. Some are athletes involved in hockey, football, baseball, gymnastics, ballet, dancing, yoga or pilates.
Time for a hip scope?
If you meet the strict indications and diagnosis for FAI, you might be a candidate for hip arthroscopy. A hip scope, as we call it, has gained popularity over the last 10 years, yet few orthopedic surgeons in the Chicago area perform it.
A hip scope is less invasive and very precise, usually an 8mm incision. Using long, arthroscopic cameras and minimally invasive instruments, we can heal native structures like cartilage.
Mistaking FAI for arthritis or hernia
As with all medical conditions, getting an accurate diagnosis is critical.  Unfortunately, FAI is commonly misdiagnosed as arthritis or a hernia, since the pain frequently occurs in the groin area.
If you're misdiagnosed, your treatment will be ineffective. Your physician might focus on physical therapy to improve your range of motion, when what you actually need are strengthening exercises. When prescribed treatments that don't alleviate the condition, some patients hear that they are simply going to have to live with the pain.
Diagnosing FAI requires a complete medical history, a very precise clinical exam to rule out other causes of pain, specific radiographs and sometimes a special kind of MRI. The specificity of this process is essential to an accurate diagnosis of FAI.
Road to recovery
It takes about two to three months to recover and rehab from a hip arthroscopy. We begin with partial weight bearing movement and using crutches immediately after the surgery, then advance to rehabilitation with a physical therapist within one week.
Patients typically regain functionality in their daily lives and improve their quality of life.
Do you have hip or knee pain? Take a free online quiz to learn more. 
Related Posts
Comments
About the Author
Dr. Ritesh Shaw is an orthopedic surgeon at Advocate Lutheran General Hospital. His approach to patient care starts with empathy and aims to get patients back to being active: "Each person is an individual and should have treatment catered to his or her particular needs. With contemporary training in hip and knee disorders in adults and young adults, I believe in educating the patient and their family on their natural disease process, alternatives in treatment options, and expected outcomes of surgical and non-surgical treatment to allow patients to make better-educated decisions."