Brain aneurysm: A race to live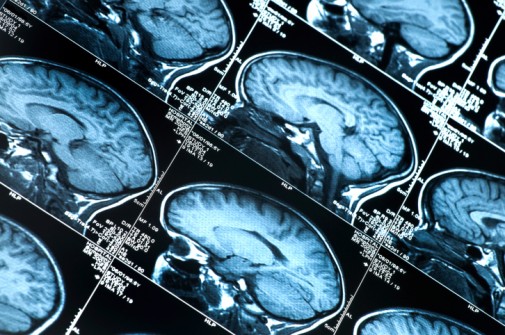 When Kathy Ciolino's husband, Chick, found her lying unconscious on the floor of their home, the former serviceman and paramedic revived his wife with CPR. He called 911, and an ambulance rushed Kathy to a nearby community hospital.
A CT scan showed a ruptured brain aneurysm on the ophthalmic artery in her brain. This artery supplies blood to the eyes and other surrounding tissues. Aneurysms cause normally tough artery walls to bulge and become flaccid. Eventually, they break open. That's what was happening to Ciolino.
Ciolino, 63 from Palos Hills, Ill, was taken from the community hospital to Advocate Christ Medical Center. When she arrived there, she was hemorrhaging. A pool of blood was developing on the surface of her brain.
The clock was ticking. Without immediate treatment from a specialty team Ciolino would die.
Dr. Thomas J. Grobelny, a neurointerventional radiologist with Advocate Medical Group and director of the neurovascular program at Advocate Christ Medical Center's Neurosciences Institute, performed an advanced, minimally invasive procedure called endovascular coiling.
Guided by X-ray imaging, Dr. Grobelny threaded a catheter from Ciolino's groin artery to the brain aneurysm. He then inserted tiny wire coils into the aneurysm to seal the rupture.
To stop the hemorrhage, Dr. Keith Schaible, a neurosurgeon at Christ Medical Center, inserted an external ventricular drain (EVD) to relieve pressure on her brain from the buildup of blood and fluids.
While she was in the neuro-intensive care unit, Ciolino was also treated for a heart complication related to the aneurysm. Dr. Gregory Macaluso, a cardiologist at Advocate Medical Group and at the Heart and Vascular Institute at Christ Medical Center in Oak Lawn, Ill, diagnosed Ciolino with neurogenic cardiomyopathy. This condition caused her blood pressure to drop and fluid to accumulate in her lungs. Dr. Macaluso was able to address Ciolino's heart problem with medication.
Just one month after the procedure in February 2013, Ciolino was on her way to recovery. "Today, I feel great! I'm up and walking and talking. But, I must admit, my husband is over watching me," she says with smile. "I'm blessed."
Symptoms of a brain aneurysm
Like most brain aneurysms, Ciolino's was silent. They are commonly discovered after the person with the aneurysm has a CT scan for another reason or after it has started to rupture.
If any symptoms are present at all, they are subtle enough to be mistaken for something else, or ignored altogether. The symptoms can include:
Vision problems like vision loss or double vision
Headaches
Pain or stiffness in the neck
Eye pain
If the aneurysm is starting to rupture or break open the person may have a severe, debilitating headache as blood leaks into the brain. Other symptoms can include:
Seizures
Unexplained confusion or stupor
Nausea and vomiting
Muscle weakness or numbness in part of the body
Speech impairment
The key is to act fast. Call 911 immediately. Every second counts. Learn more about Advocate Health Care's neurology and neurosurgery services.
Related Posts
Comments
About the Author
health enews staff is a group of experienced writers from our Advocate Health Care and Aurora Health Care sites, which also includes freelance or intern writers.