Kevin Ware faces long road to recovery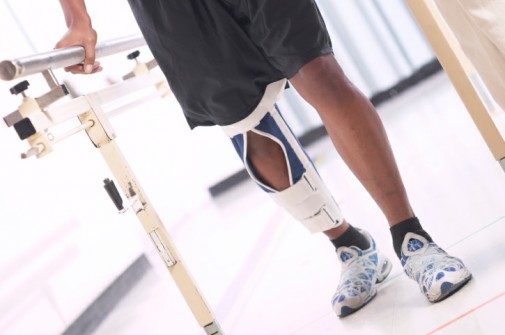 For University of Louisville point guard Kevin Ware, the NCAA championship game against Duke was his worst nightmare come true. During the game he suffered a devastating injury, so gruesome, most national television networks won't replay it.
Ware says he thought he had simply "tweaked" his ankle after landing awkwardly following a play, but he quickly realized it was much more serious.
His tibia actually tore through the skin of his right leg, and trainer Fred Hina, rushed to his side to wrap towels around the leg to hide it from view.
Ware experienced a compound fracture, which happens when the broken bone pierces through the skin. He immediately underwent a two-hour emergency surgery and remained in the hospital for several days.
Even though he put on a brave face and showed up on the sideline to cheer his team on to final NCAA victory, doctors say Ware faces a lengthy time of rehab— but he is expected to play again.
Dr. Gregory Primus, a former Chicago Bear's wide receiver and now an orthopedic surgeon at Advocate South Suburban Hospital, says the type of injury Ware experienced is very rare.
"Typically a severe break like this is associated with a high impact injury like falling from heights, skiing or a high speed accident," he says.
Ware's surgeons reset the bone and inserted a rod to repair the break and he will likely undergo months of rehabilitation, says Dr. Primus. "The tibia can be vulnerable to compound fractures because of where it's positioned," he explained. "It lies right under the skin and is not very protected by tissue or muscle compared to other bones, which is why it ripped through the skin the way it, did."
Dr. Primus also says Ware's surgery is typical for a break of this type.
"During surgery, a rod is typically placed in the leg from an incision in the knee and then runs down to just above the ankle. This surgery realigns the bone and allows for healing." In most cases, he says, the rod placed in the leg would likely stay there for life, unless there are complications.
Dr. Primus also notes that some people, especially African Americans, can be vulnerable to bone breaks because of a lack of Vitamin D in their system.
"It has been documented that athletes who have higher Vitamin D deficiencies tend to have higher bone fractures and healing times," he says. "If an athlete is shown to have Vitamin D deficiencies, a daily, multivitamin probably won't do the trick to remedy the problem. We would give the athlete prescription Vitamin D shots or pills to boost their levels of this important vitamin," says Dr. Primus.
As for Ware, Dr. Primus anticipates he has a minimum of six months of physical therapy or more before he can get back out onto the court.
Related Posts
Comments
About the Author
health enews staff is a group of experienced writers from our Advocate Health Care and Aurora Health Care sites, which also includes freelance or intern writers.