Can skin cancer put you at risk for other cancers?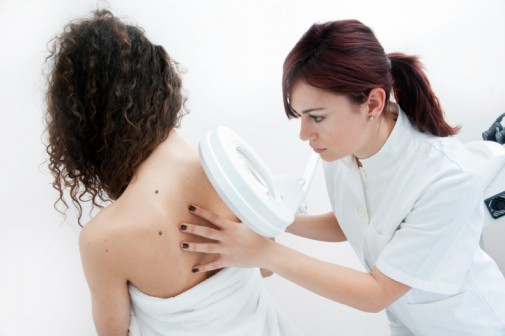 With summer just around the corner, scientists are giving us another reason to break out the sunscreen and big hats to protect our skin.
According to a new study published in the journal PLOS Medicine, if you've survived non-melanoma skin cancer you may actually be at greater risk for developing other cancers in your lifetime. In fact, Harvard University researchers found that women previously diagnosed with non-melanoma skin cancer — such as basal cell carcinoma and squamous cell carcinoma — had a 26 percent increased risk of developing other cancers, including breast, lung and melanoma. In men, they found a 15 percent increased risk for future melanoma.
Dr. Deepti Singh, an oncologist and hematologist at Advocate Illinois Masonic Medical Center in Chicago, says the study is a good reminder that prevention is key. "The late spring and early summer month are when UV rays are the most harmful," she says.
Dr. Singh said these study results remind us that simple precautions when out in the sun can help protect your skin and your health.  According to the Skin Cancer Foundation one in five U.S. adults will be diagnosed with skin cancer in their lifetime.
There are a few key steps you can take when out enjoying the sunshine Dr. Singh says:
Use sunscreen that's at least SPF 15.
Wear protective clothing, such as long sleeves or hats that cover your face, neck and ears.
Wear sunglasses that block both UVA and UVB rays.
Look for shaded areas in the mid-day hours when the sun is at its peak.
Dr. Singh says it's also important to talk with your doctor regularly about any unusual changes in moles on your skin. She also recommends sharing any family history of cancer.
"It's becoming increasingly important for everyone to pay attention to their bodies, examining your skin, from head to toe, once a month. If you discover a new or growing mole, be certain to consult with your primary care physician or dermatologist right away."
Here are some other ABCs of suspicious moles you should know:
Asymmetry — one half of the mole does not match the other half
Border — the border or edges of the mole are ragged, blurred or irregular
Color — the mole has different colors, including shades of tan, brown, black, blue, white or red
Diameter — the diameter of the mole is larger than the eraser of a pencil
Evolving — the mole appears different from others or is changing in size, color or shape
Related Posts
Comments
About the Author
health enews staff is a group of experienced writers from our Advocate Aurora Health sites, which also includes freelance or intern writers.