Costs of treating heart failure will likely double in 20 years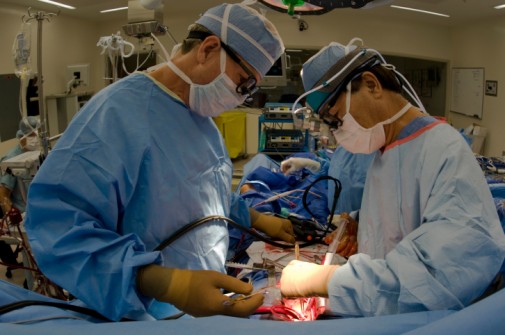 As the U.S. population ages, the number of heart failure patients may reach 8 million by 2030 and the trend will be costly, new analysis finds.
The report published online in the American Heart Association (AHA) journal Circulation this week, cited some sobering statistics.
It's predicted the number of people with heart failure will rise 46 percent from 5 million people in 2012 to 8 million by 2030. And the cost of treating those patients may double from $31 billion in 2012 to $70 billion in 2030.
"If we don't improve or reduce the incidence of heart failure by preventing and treating the underlying conditions, there will be a large monetary and health burden on the country," said Paul A. Heidenreich, M.D., professor of medicine at Stanford University School of Medicine in a news release.
By 2030, every U.S. taxpayer could be paying $244 each year for heart failure expenses, the report said.
Not only are baby boomers moving into old age, but there is an increasing number of people with high blood pressure, diabetes and other conditions that contribute to heart failure, the report said.
The AHA says that heart failure is the leading cause of hospitalization for Americans over age 65. The life-threatening condition happens when the heart is weakened from high blood pressure, heart disease or other factors and has trouble pumping blood through the body.
The condition is particularly prevalent among older people.
"Heart failure is a disease of the elderly," Heidenreich said. "Because our population is aging, it will become more common and the cost to treat heart failure will become a significant burden to the United States over the next 20 years unless something is done to reduce the age-specific incidence."
The report offered ideas on how to lessen the impact and better manage the increasing number of Americans with the problem including improving care coordination among physicians and clinicians, and improving access to palliative and hospice for patients in late stages, among other ideas.
Dr. Vincent Bufalino, vice president of cardiovascular services at Advocate Health Care, says he hopes the report raises awareness about the need to make a heart healthy lifestyle a priority.
"Some of the simplest changes can benefit our hearts in major ways," Dr. Bufalino says. "Incorporating times of regular exercise, making efforts to reduce stress, minimizing your salt-intake and avoiding smoking can go a long way to keep our hearts in shape which is especially important as we age."
Related Posts
Comments
About the Author
health enews staff is a group of experienced writers from our Advocate Health Care and Aurora Health Care sites, which also includes freelance or intern writers.