Don't let DIY projects become a medical emergency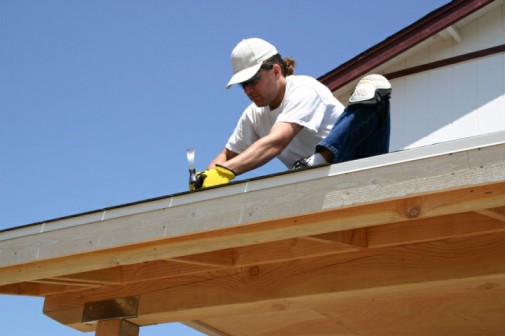 Some fall off ladders. Others get nauseous from inhaling toxic fumes. More than a few get something in their eyes.
Welcome to the health hazards of the exploding do-it-yourself home repair industry. In a tough economy, more homeowners are trying to avoid the cost of contractors for home improvement projects by taking on projects themselves. But one cost they don't consider are the injuries.
An estimated 43 million homeowners attempted some 57 million home improvement projects in 2011, according to the Home Safety Council. But about one in five were expected to sustain some kind of injury.
The Consumer Product Safety Commission reports that more than 246,733 persons were treated in hospital emergency rooms in falls from ladders or stools in 2009.  Nearly half of all eye injuries occur in the home, and 90 percent of eye injuries can be prevented by wearing protective eyewear, according to the American Academy of Ophthalmology. 
Dr. Chintan Mistry, chief of emergency medicine at Advocate Christ Medical Center, sees it all — from minor cuts that require simple stitches to more serious problems: broken bones, head trauma, eye injuries, amputated fingers, poisoning and even burns.
The causes are just as numerous, among them Mistry says are:
Dangerous mixing of household cleaners, motor or paint solvents
Falls from ladders and roofs
Improper use of power tools
A general failure to read instructions, especially for power tools.
Read the instructions…please
"The purpose of product labels is to minimize your risks. Read them and follow the recommendations," Mistry advises.
That includes products that call for safety glasses, protective gloves and clothing —even a mask.
Many household cleaners are can burn the skin and cause permanent eye damage if splashed. Pesticides applied to lawns can be absorbed through the skin or lungs and affect nerves. Some of the chemicals in common consumer products are known carcinogens — they can  cause cancer — and must be used cautiously and in well-ventilated areas, according to the U.S. Environmental Protection Agency.
Do-it-yourselfers who fail to follow instructions for handling chemicals and solvents may experience difficulty in breathing, dizziness, watery or itchy eyes, skin rash or burns and nausea, says Mistry.
He offers these safety tips before you begin a home project:
Keep a stocked, readily available first aid kit.  Applying first aid immediately when an injury occurs may prevent a minor problem from becoming an emergency.
Post emergency numbers at home and call 911 or your physician if symptoms of the injury continue or get worse.
Install a fire extinguisher and learn how to use it — before you need to use it.
Most important, if a project seems too daunting or dangerous, consider hiring a professional.
"Those home projects are worth doing yourself when you can do them properly," Mistry says. "A successful project completed safely is much more rewarding than a trip to the emergency room."
Related Posts
Comments
About the Author
health enews staff is a group of experienced writers from our Advocate Health Care and Aurora Health Care sites, which also includes freelance or intern writers.