Brain structure may hold key to kids' math learning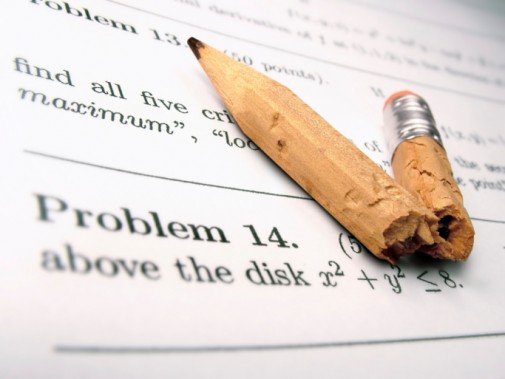 Math. It's a four-letter word for some kids as they struggle to learn it. Yet others tackle it with ease. Ever wonder why that is? New research says the answer may be in the brain. A new study revealed that how much a child is able to actually benefit from math tutoring may be linked to the size and wiring of specific brain structures.
The study, published in the late April edition of Proceedings of the National Academy of Sciences, examined a group of 24 third-graders, ages 8 and 9, who participated in 15 to 20 hours of one-on-one math tutoring over eight weeks.
Researchers used brain scans to find a link between math-learning abilities and brain structure or function. Before and after the eight-week tutoring period, the group's arithmetic performance was tested and had structural and functional brain scans performed.
When researchers analyzed the group's structural brain scans, they found that larger gray matter volume in three brain structures predicted greater ability to benefit from math tutoring. The best predictor of improvement with tutoring appeared to be a larger hippocampus, which is considered one of the brain's most important memory centers.
Functional connections between the hippocampus and several other brain regions, particularly the prefrontal cortex and basal ganglia, also predicted the ability to benefit from tutoring.
According to the research from the Stanford University School of Medicine, "What was really surprising was that intrinsic brain measures can predict change," said Vinod Menon, the study's senior author, in a statement.
"We can actually predict how much a child is going to learn during eight weeks of math tutoring based on measures of brain structure and connectivity," explained Menon.
Although all 24 children who received tutoring improved their arithmetic performance, individual gains varied widely, ranging from 8 percent to 198 percent improvement.
"The part of the brain that is recruited in memories for places and events also plays a pivotal role in determining how much and how well a child learns math," said Kaustubh Supekar, the study's lead author.
The study also revealed that no neuropsychological assessment scores, such as IQ  or memory tests, could predict how much an individual child would benefit from tutoring
"Our findings suggest that, while conceptual knowledge about numbers is necessary for math learning, repeated, speeded practice and testing of simple number combinations is also needed to encode facts and encourage children's reliance on retrieval—the most efficient strategy for answering simple arithmetic problems," said Menon.
Related Posts
Comments
About the Author
health enews staff is a group of experienced writers from our Advocate Health Care and Aurora Health Care sites, which also includes freelance or intern writers.