Soda linked to higher risk for diabetes, study says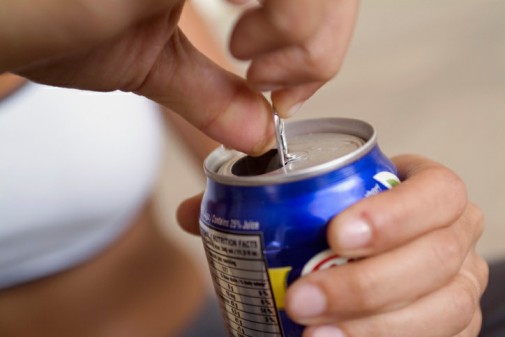 A new study may have many people rethinking their drink. More than 28,000 people in European countries were recently studied based on their daily intake of sugary sodas and their risk for type 2 diabetes.
Results, published in the journal Diabetologia, showed that those who drank only one 12-ounce sugar-filled drink a day had an increased chance of developing the disease by 22 percent.
One important thing to note is that the diabetes risk did decrease slightly when researchers factored in people's total caloric intake and body-mass index—but only by 4 percent.
Researchers believe the findings are significant enough to show that sugary drinks definitely impact more than your weight. They believe the data shows a direct correlation between the consumption of sugary drinks and an increased risk of type 2 diabetes. In fact, the results of this European study are very similar to a North American study, which showed a 25 percent increase in the risk for diabetes.
"Given the increase in sweet beverage consumption in Europe, clear messages on the unhealthy effect of these drinks should be given to the population," said researcher, Dora Romaguera.
So what are the best beverages to drink?
Kathleen Miller, clinical dietitian and certified diabetes educator at Advocate Good Samaritan Hospital in Downers Grove, Ill., offers some options on the healthiest beverage choices.
"Water is the best choice with a squeeze of fresh lemon or lime juice for flavor. Even unsweetened iced tea is a good choice," she says. "Diluted fruit juices can be a healthy choice too, but will still contain a small amount of calories."
Miller also recommends the following tips to help reduce your risk of type 2 diabetes:
Reach and maintain a reasonable body weight.
Make wise food choices as much as you can, including limiting sugar-sweetened soft drinks.
Be physically active every day.
According to the Centers for Disease Control and Prevention (CDC), nearly 26 million Americans have diabetes. The CDC recommends you take charge of your health just by making simple, healthy lifestyle changes. Take this quiz to find out your risk for diabetes.
Related Posts
Comments
About the Author
Sarah Scroggins, health enews contributor, is the director of social media at Advocate Health Care and Aurora Health Care. She has a BA and MA in Communications. When not on social media, she loves reading a good book (or audiobook), watching the latest Netflix series and teaching a college night class.