5 tips to help your kids grow up healthy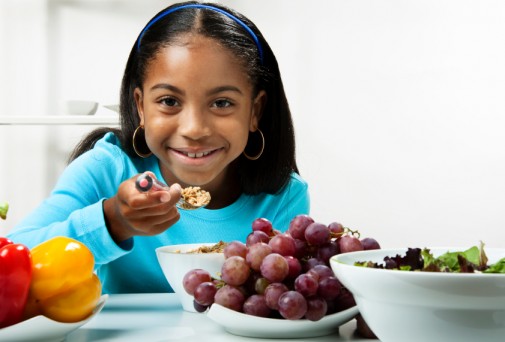 Chubby kiddos are cute in baby food commercials. But how do you ensure your toddler grows up healthy, before they become a staggering statistic?
The American Heart Association (AHA) reports one in three children between the ages of 2 and 19 are overweight and obese. Our youth are increasingly growing rounder (and sicker). Getting them started on the right track while they're young improves their chances for a healthy future.
Confused about where to start? These 5 tips from the AHA will help you get your kids off to a healthy start.
1. Participation is key. Take your kids grocery shopping and get them involved in selecting food for the home. Teach them how to choose fresh fruits and veggies. Back home, let them help with meal preparation. Once kids see how a meal comes together, from purchase to prep, they will take greater interest in what goes into their bodies.
For picky eaters, Laura Tarry, a fitness specialist who works with children, suggests encouraging your kids to try one healthy, new food each week. "Tell your kids, 'You have to take four bites, and you cannot spit it out,'" says Tarry, who works at Advocate Good Samaritan Health and Wellness Center in Downers Grove, Ill.
2. Eat as a family. Family schedules can be hectic, and when families get busy, meal time suffers. Often fast–food meals and unhealthy snacks become the go-to choice with everyone constantly on the go. Make a concerted effort to sit down to dinner as a family every night.
And turn the TV off during dinner, Tarry recommends. "Mindless eating is one of the biggest hinders to eating healthy," she says.
Family meals done this way allow each member to reconnect, and studies report that children who eat with their families are less likely to gain unhealthy weight and become obese.
3. More water, less sugar. The human body is are more than 60 percent water, which must be replaced regularly so they function properly. Urge kids to drink plenty of water. Kids love soda, and no one wants to deprive their children, but consider reserving sugary drinks for special occasions. Fill the fridge with pitchers of water instead of cans of soda. And buy reusable water bottles for road trips. Their bodies will thank them.
4. Pack a lunch. It's easier to eat healthy when you control how your food has been prepared. Making lunch for your kids allows them to choose healthy snacks as well as a balanced, nutritious meal. Get them involved in the lunch-making process as well so they know what they'll be getting and they'll be less likely to trade with someone else at school.
5. Keep it moving. Get moving as a family. Schedule daily activities you can do together. Go on nature walks after dinner, play interactive video games the whole family can participate in, get involved in activities such as yoga, dance or martial arts. And bill this as play vs. exercise. Exercise, to some, can sound like work, but everyone loves to play.
It's relatively easy to get moving, even during everyday activities. For example, when you go to the mall, Tarry says, "Don't try to find the closest parking spot. If everyone in your family is healthy, just park and be happy you can walk at your own free will."
All these things, done in conjunction with one another, can create lifelong healthy habits, adds Tarry. "Because once you're used to them, you don't even think about it."
Related Posts
Comments
About the Author
health enews staff is a group of experienced writers from our Advocate Aurora Health sites, which also includes freelance or intern writers.