Should new moms combine breastfeeding and formula?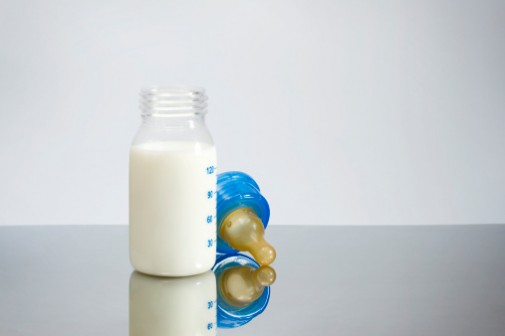 A new study, published in a recent issue of the journal Pediatrics, says moms can have no fear about giving their newborns formula while breastfeeding. The research says that doing so will not cause harm nor affect the ability to breastfeed long term; it may actually help.
Researchers say adding formula into a baby's routine during their first days of life could help aid in weight gain and even help babies to breastfeed longer. They said generally new moms don't initially produce a high volume of milk, so their babies can lose weight during this time.
Dr. Vibha Thaker, neonatologist on staff at Advocate Good Samaritan Hospital in Downers Grove, Ill., says breastfeeding is the best for all newborns but sometimes when the mother's milk supply does not get established immediately after birth, if donor milk is unavailable, this could be a good alternative.
"Until the mother's milk supply is adequate to satisfy the newborn baby's hunger, the baby is at risk for excessive weight loss due to dehydration, increased jaundice and unhappiness due to starvation," she says.
The study included 38 randomly-selected infants who lost 5 percent or more of their weight in the first days after birth. Each baby was studied with these two controls: they were either solely breastfed or were breastfed along with supplemental formula.
Results showed that after three months, 79 percent of babies who were fed limited formula amounts with breastfeeding during the first two to five days of life were still doing so, compared to 42 percent of the control group that were still breast-feeding without formula addition.
"Most babies don't need formula," said the lead author, Dr. Valerie J. Flaherman, in a statement. "But some kids are at risk for weight loss, and this could be an option."
Read more on the benefits of breastfeeding, click here.
"Although this study has a small sample size, it's encouraging for mothers who may get frustrated due to lack of adequate milk supply," Thaker says.
Related Posts
Comments
About the Author
Sarah Scroggins, health enews contributor, is the director of social media at Advocate Aurora Health. She has a BA and MA in Communications. When not on social media, she loves reading a good book (or audiobook), watching the latest Netflix series and teaching a college night class.