4 tips to prepare for your first 5K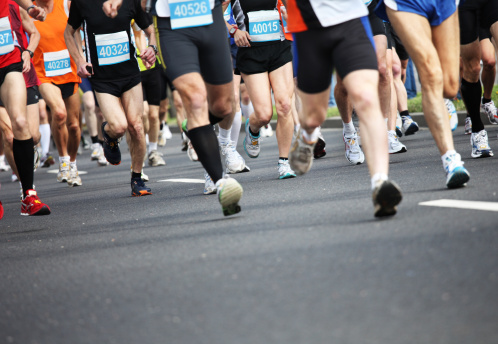 According to RunningintheUSA.com, there are nearly 42,000 races scheduled across the U.S. in 2013, with that number rising every week. Seeing so many folks crossing the finish lines with arms raised in triumph may be giving you the urge to join them.
If you're thinking about running your first race, many running experts suggest signing up for a 5K race. With the right preparation, the 3.1 mile route is achievable for most people.
Dr. Ketan Mody, sports medicine physician on staff at Advocate Good Samaritan Hospital in Downers Grove, Ill., says first thing's first—speak with your physician prior to any race training.
"Make sure you are physically fit to exercise and complete a race," he says. "If you are not an avid runner or exerciser, talk to your health care provider to ensure you are in the right shape to begin your training."
Dr. Mody recommends you pick a race and sign up. Sending in your form and entry fee can be motivating.
"If you are preparing for your first race, set a goal," he says. "Maybe it is an end of the summer race or one in the fall. After you set your goal date, you can begin your training and adapt to a routine."
Once you are cleared for exercise, he says it's important for new runners to remember the following four tips:
Set up a training schedule that works best for you. Create a calendar of when you will get in your runs – maybe you will run in the morning, on your lunch break or after work. The Runner's World website offers a number of proven training regimens to follow to make sure you're prepared.
Practice stretching exercises. Dr. Mody says stretching muscles and adding in strengthening exercises will prevent breakdown of your mechanics as well as preventing injuries.
Ensure your diet is balanced and you are eating regularly.
Stay hydrated. "Hydration is key to your training and race process. Drink plenty of water and although races have water stations, some runners prefer to carry fluids with them on a belt while running," he says.
Tips on nutrition
Dr. Mody says nutrition is one of the key elements for a training program.
"Your diet should have about 60-70 percent carbohydrates the week before the race. You don't ever want to over or under eat," he says. "A lot of runners will load up on carbohydrates right before a race, which should be done 48 hours before and then in moderation for 24 hours post-race."
Read More: What to eat before and during your run
Dr. Mody adds that if the race is in the morning, the previous night's meal should be at about 7 p.m. "You want to avoid food and drinks that may cause "runners' trots" or excess bathroom breaks on the run, such as caffeine," he says.
Overall, running can be a great experience for the mind and body, he says. Pace yourself, set personal records, eat well, stay hydrated and have fun!
Related Posts
Comments
About the Author
Sarah Scroggins, health enews contributor, is the director of social media at Advocate Health Care and Aurora Health Care. She has a BA and MA in Communications. When not on social media, she loves reading a good book (or audiobook), watching the latest Netflix series and teaching a college night class.