Avoid these unwanted guests at your next summer picnic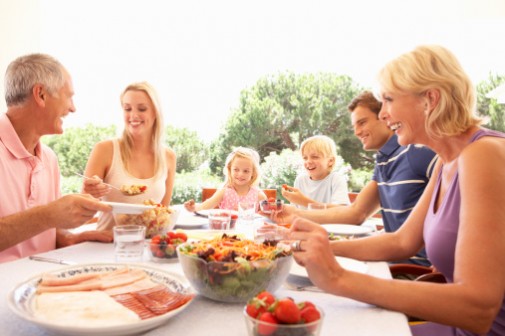 Along with the warm weather, come picnics, pool parties and barbecues with family and friends.  Life may seem simple and the food delicious, but experts say to beware.
These outdoor food adventures can prove to be breeding grounds for bacteria that can turn summer perfection into summer pain.
Reports by the USDA Food Safety and Inspection Service show that incidents of food poisoning increase during the summer months because of heat, humidity and the large number of outdoor events at which food is served. The heat and humidity increase bacteria growth and outdoor kitchens often lack clean water and refrigeration.
However, food-borne illnesses, like salmonella infection, are easy to prevent. By planning and cooking consciously, you and your family can enjoy your summer picnic without worry, says Stacie Schutz, pediatric dietitian at Advocate Children's Hospital.
Good meal planning is the key to safety.
"Be mindful of ingredients used and avoid those that spoil easily, including dairy, creams and mayonnaise," she says.
In fact, Schutz suggests bringing or preparing dishes with lean meats, fruits or vegetables that can be served at room temperature. To satisfy those who might be craving potato salad, transport meals containing easily perishable items in insulated packs or coolers with ice or frozen water bottles, she says.
Schutz offers these other outdoor food safety tips to keep in mind:
Cook consciously. Food poisoning can be avoided if chefs are aware of cross-contamination and cooking temperatures.
Never use the same utensils or containers for raw and cooked meats.
Store meat in a chilled cooler and cook it to the right temperature. Fully cooked meat, such as chicken or beef, will not be pink, and juices will run clear. Food thermometers are the best way to tell if meat has been properly cooked.
Most importantly, she says, never consume food if you do not know how long it has been left out. Schutz believes eating food that's been left out too long is a leading cause of food poisoning.
"You cannot tell if food is contaminated by looking at it or even tasting it," she said. "When food reaches a certain temperature, it enters a danger zone, and then it's too late."
Food should not be consumed if it has been left out for more than two hours, she says. If the temperature goes higher than 90 degrees, food should not be kept out longer than one hour. If you are unsure, throw it away.
If you think you may be experiencing food poisoning, Dr. Brian Sayger, emergency medicine physician at Advocate Christ Medical Center, said to watch for these symptoms.
"Symptoms can develop within hours to days after ingestion," he says "There are various types of food-borne illnesses, including Salmonella, E.Coli, Hepatitis A, Norovirus, and Listeria-bacteria. Each type has varying symptoms such as nausea, vomiting, diarrhea, fever or abdominal cramps."
If the symptoms are severe, contact your physician right away, he says. "While there are about 3,000 deaths per year from food-borne illnesses, most people recover without any long term complications."
Making conscious decisions while preparing and serving food can make picnics and barbecues safe for everyone.
Related Posts
Comments
About the Author
health enews staff is a group of experienced writers from our Advocate Aurora Health sites, which also includes freelance or intern writers.