The surprising eating habit that may help you lose weight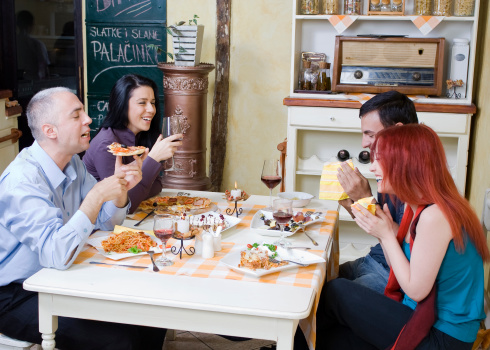 It might sound like a dream come true: Eat a big breakfast, followed by a large lunch, and still lose weight. But it could be a reality — if you skip dinner, research shows.
A new study presented this week to the American Diabetes Association Scientific Sessions conference turns age-old diet advice on its head. Instead of consuming several small meals throughout the day to stave off hunger and rev up your metabolism, researchers suggest eating two large meals early, and you could lose even more weight.
The study done by researchers in the Czech Republic split 54 patients with Type 2 diabetes into two random groups. Both groups followed a diet that reduced their energy intake by 500 calories per day and contained 50 percent carbohydrates, 20 percent protein and less than 30 percent fat.
For 12 weeks, one group ate three main meals — breakfast, lunch and dinner — and three small snacks in between. The other group ate a large breakfast between 6 and 10 am and a large lunch between noon and 4 pm. The two groups then switched plans for another 12 weeks.
Although both groups lost weight and decreased the amount of fat in their livers, the group eating only two large meals lost more during each 12-week session. Eating fewer, bigger meals also led to lower fasting blood sugar levels, meaning that the body's insulin production was working more efficiently.
Aimee Chisamore, Registered Dietitian with Advocate Health Care's Weight Management Program, worries the two-meal-a-day plan might not work.
"It's not realistic to think that you're going to skip dinner every night and many people tend to overeat or binge eat when they skip meals frequently." she said. "You'll achieve, and maintain, a healthy weight if you make eating nutritiously a way of life. This plan may work initially for certain individuals, but it's probably not going to work for everyone or long term.  Keep in mind that these are the initial results from just one research study."
One of the keys to weight loss is knowing exactly how much you're consuming and keeping detailed, daily food records, Chisamore says, which might be a struggle for those eating six times a day. She recommends using an online food tracker such as My Fitness Pal or Lose It!  Several of the websites now make smartphone apps that you can download for free and always have with you to log your food intake for the day. 
The other factor is exercise, of course, which you can also track with your app. And it's true that you'll burn more calories during the day, when you're active, so eating early with a good source of protein instead of eating right before bed can also help with weight loss, too, Chisamore explained.  
"The bottom line is always moderation, watch and track your intake daily, and be physically active," she said. "There's no quick fix to weight loss. In order to maintain weight loss, it's essential to make lifestyle changes and eating healthy at all meals and snacks."
Related Posts
Comments
About the Author
health enews staff is a group of experienced writers from our Advocate Aurora Health sites, which also includes freelance or intern writers.