Is the air you breathe harming your lungs?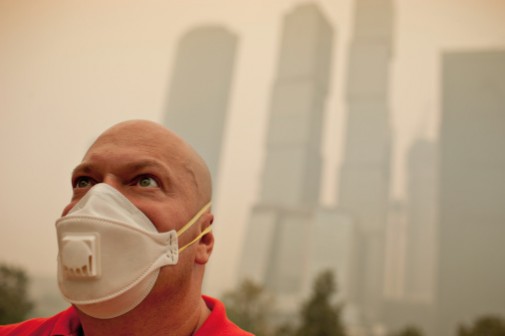 Smog is an everyday annoyance for those who live in heavily populated urban areas. But a recent study suggests that even low levels of pollutions can have an impact on your health.
The study, published in The Lancet Oncology, raises awareness on how exposure to air pollution can increase your risk of developing lung cancer.
"Pollution can absolutely play a role in increasing a person's risk for cancer," says Dr. Ashby Jordan, medical director of the Respiratory Care Clinic at Advocate Sherman Hospital in Elgin, Ill.
"This link has been established long ago when researchers were noticing an increase in lung cancer in places that used indoor charcoal for cooking, such as South Korea and Mexico City. This new study is interesting because it shows the impact of pollution on a much larger, global scale."
Led by the Danish Cancer Society Research Center, the study reviewed data from 313,000 people in nine countries throughout Europe. The focus of the study was the health risk of long-term exposure to pollution. Researchers compared local air quality levels with the number of reported lung cancer cases.
According to Jordan, pollution particles can enter the lungs and cause an inflammatory reaction. "This can cause certain genetic mutations that may lead to cancer," he explains. "Some people may have a genetic predisposition to cancer and just need a trigger to cause cells to mutate and become cancerous."
Air pollution is of particular concern for those who live in the Chicago region where air quality recently received a failing grade by the American Lung Association's annual "State of the Air" report. According to the report, Cook and Lake Counties in Illinois scored an "F" score on the "Ozone grade," which measures the number of high ozone days each year.
While it is difficult to avoid pollution, especially if you live in a major metropolitan area, there are ways to reduce your exposure. Dr. Jordan recommends paying close attention to weather reports and avoiding the outdoors on particularly smoggy days. "I tell my patients to avoid extremes in weather and bad smog days," he says. "Pollution can also cause an exacerbation of asthma, emphysema and other lung diseases."
Other ways to avoid pollution include wearing a mask when outside or investing in a HEPA (high-efficiency particulate air) filter for the home. HEPA filters trap many air pollutants that would otherwise go into your lungs. "I recommend a HEPA filter, especially for patients with asthma and COPD, to filter the air and reduce allergens and irritants," Dr. Jordan says.
Since a majority of us are unable to move to the middle of nowhere to avoid pollution, these simple strategies can help to reduce exposure and lung cancer risk.
Related Posts
Comments
About the Author
health enews staff is a group of experienced writers from our Advocate Health Care and Aurora Health Care sites, which also includes freelance or intern writers.