Protecting seniors and kids in the extreme heat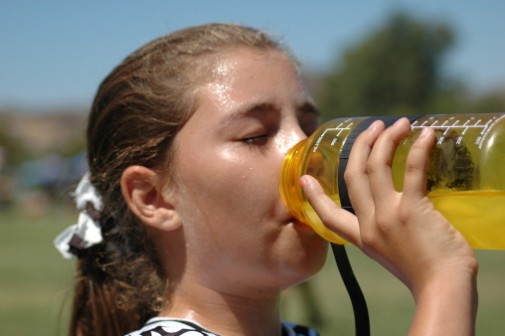 A massive heat wave is sweeping the Midwest with the heat index in Illinois topping 106 this week. Health experts say this extreme heat can be deadly especially for seniors, kids and your pets.
Already this year, a reported 21 children have died of heat stroke after being left in cars, according to the online site KidsAndCars.org. The national nonprofit child safety organization says nearly 700 children have died as a result of being left in hot vehicles since the group began tracking trends in the mid-1990s.
Emergency medicine physicians are no strangers to seeing kids put at serious risk of injury or even death after they are left unattended—even briefly—inside hot cars.
"Some people may think it's okay to leave kids and pets in the car on days when temperatures are only in the upper 60s, but even on cooler days temperatures inside a closed vehicle can rise well above 110 degrees in a matter of minutes," said Dr. Rishi Sikka, emergency medicine physician with Advocate Medical Group. "Children should never be left alone in a car for any reason no matter what the temperature is."
It might be hard for some to imagine a parent forgetting their child is in the vehicle, but KidsAndCars.org says it's not that uncommon. They say the number of reported fatalities spiked in the early 1990s after the installation of airbags required children to be placed in the back seat with infants in rear-facing car seats.
They believe the new positioning of the rear-facing car seats makes it easier for parents and caregivers to forget the child is in the car.
Another group at high risk when temperatures soar is seniors.
"This is the time of year to be aware of heat illness," said Dr. Donald Steiner, an emergency room physician at Advocate Good Samaritan Hospital in Downers Grove, IL. "This poses a real risk to the elderly, who should be checked on frequently during hot weather to ensure they are using air conditioning appropriately."
Sue Durkin, an advanced practice nurse for geriatrics at Good Samaritan Hospital, says many factors combine to cause heat-related effects in the vulnerable elderly population.
"Elderly individuals do not regulate body temperature as well as younger adults, and inadequate hydration often complicates this problem," she said. "Environmental temperatures, high humidity and pollutants in the air can complicate the physical response to heat as well."
Durkin stresses the importance of education, prevention and taking steps to make sure the elderly have a cool environment available to them.
Below are a few tips to help you protect you and your loved ones.
The National Highway Traffic Safety Administration (NHTSA) has for tips for parents when it comes to kids and cars in the extreme heat.
Never leave a child alone in a vehicle – even if the windows are partially open or the engine is running and the air conditioning is on.
Make a habit of looking in the vehicle – front and back – before locking the door and walking away.
Do things that serve as a reminder a child is in the vehicle, such as placing a purse or briefcase in the back seat to ensure no child is accidentally left in the vehicle, writing a note or using a stuffed animal placed in the driver's view to indicate a child is in the car seat.
Teach children a vehicle is not a play area and store keys out of a child's reach.
The CDC offers this advice to help folks stay healthy in the heat.
Drink plenty of fluids (nonalcoholic). Warning: If your doctor generally limits the amount of fluid you drink or has you on diuretics (you might call them water pills), ask how much you should drink while the weather is hot.
Get plenty of rest.
Take a cool shower, bath or sponge bath.
If possible, seek an air-conditioned environment. If you don't have air conditioning, consider visiting an air-conditioned shopping mall or public library to cool off. The city of Chicago has a list of cooling centers where anyone can get inside and relax in the cool air.
Wear lightweight clothing.
If possible, remain indoors during the hottest parts of the day – usually from 10 am to 4 pm.
Do not engage in strenuous activities.
Don't be afraid to ask for help or to call the doctor if you're not feeling well.
Remember summer is a time to enjoy the outdoors and warmer weather, but when it's hot outside, experts say just be careful— take the appropriate precautions, and most of all stay healthy.
Related Posts
Comments
About the Author
health enews staff is a group of experienced writers from our Advocate Health Care and Aurora Health Care sites, which also includes freelance or intern writers.