6 things you can do to combat seasonal allergies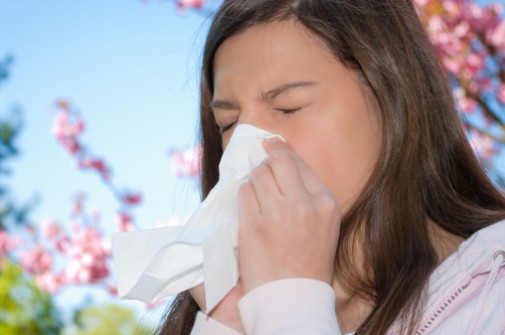 Watery, itchy eyes. Congestion. Sneezing. Irritated throat. If you're one of the millions who suffer from seasonal allergies each year, you may be struggling this summer.
According to the American Academy of Allergy, Asthma & Immunology, 7.8 percent of all U.S. adults suffer from seasonal allergies, commonly referred to as hay fever. These allergies and the accompanying symptoms are caused by the body's natural reaction to what it perceives as foreign invaders—the pollen of the trees, grasses, weeds, dust, mold and even pet dander.
"Allergies are a defense mechanism of our body, with the symptoms due to those increased defenses," says Dr. Ayesha Siddiqi, allergist and immunologist with Advocate Illinois Masonic Medical Center in Chicago. "The trouble with seasonal allergies is that many people wait until it's too late to control their symptoms. They end up in the emergency department before they do anything."
If you experience symptoms in the spring, Dr. Siddiqi says you most likely have rose fever, an allergy to tree pollens. If your symptoms are worse in the summer, she says you're most likely allergic to grass pollen. And, if you're having the most trouble in the fall, it may be a reaction to weed pollen. This is where seasonal allergies got the over-arching name of "hay fever," because the symptoms were thought to be brought on by the fall hay season, she says.
Dr. Siddiqi suggests six simple things that may help you control your seasonal allergies and lessen the symptoms:
See an allergist—Allergists are physicians who specialize in diagnosing and treating all types of allergic reactions. Until you know exactly what your body is reacting to, you won't be able to get a handle on your symptoms. Seasonal allergies take many forms, depending on what exactly you may be allergic to.
Check the pollen count—Once you've discovered what triggers your seasonal allergies, be sure to monitor the pollen counts. Local television stations and websites often report the pollen counts during the allergy seasons. You can also get local pollen count forecasts at pollen.com.
Don't wait to get help—If you've noticed in the past that spring is when your allergies are at their worst, don't wait until you're miserable to see your doctor. Keep your medications ready and start at the first sign of symptoms. This will help you get ahead of them before they get too out of control. You don't want to be chasing your symptoms.
Shower at night—Switch up your hygiene habits by showering at night instead of the morning. Cleansing before bedtime will wash the pollens off your hair and skin, so you won't be sleeping in a bed of pollen.
Avoid the wind in the Windy City—If it's unusually windy, lessen your time spent outdoors. The wind stirs up the pollens in the air and exposure may end up overpowering your allergy medication.
Wear the shades—Wear sunglasses when outdoors to protect your eyes from the pollens in the air.
"Each year, your symptoms can get worse," Dr. Siddiqi says. "So it's important to find out exactly what you're allergic to and find the proper medication for treatment."
And you may find that the medication that worked for you last year is less effective this year, she says. Dr. Siddiqi says our bodies adapt and outsmart the medications, and can eventually become ineffective. "This is all the more reason to seek medical attention," she says. "Before you're overwhelmed by your symptoms."
Related Posts
Comments
About the Author
health enews staff is a group of experienced writers from our Advocate Aurora Health sites, which also includes freelance or intern writers.