Overuse injuries increasingly common among young athletes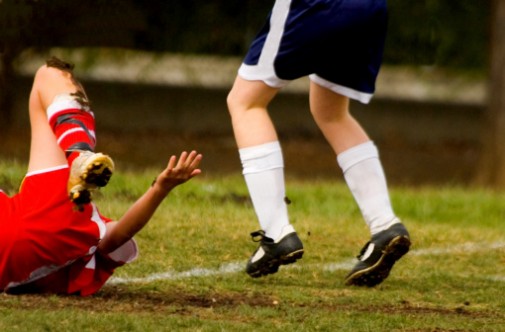 Whether baseball pitchers or cross-country runners, today's young athletes are experiencing more overuse injuries than previous generations, according to new research.
As organized sports such as baseball and football become more intense, physicians are seeing a growing number of child and teen athletes with overuse injuries—such as stress fractures, tendinitis and ligament strains of the shoulder and knee—which can ultimately lead to surgery.
"It's extremely common these days," says Dr. Joshua Alpert, orthopedic surgeon at Advocate Sherman Hospital, Elgin, Ill. "Fifteen to 20 years ago, an athlete would play football in the fall, basketball in the winter and baseball during the spring, allowing them to work multiple muscle groups. Now, young athletes are focused on one specific sport."
Overuse Injuries a Growing Concern
According to research presented at the American Medical Society for Sports Medicine meeting earlier this year, young athletes who train extensively for one sport have an increased risk for overuse injuries. The study followed 1,206 young athletes, ages 8 to 19, for three years.
Researchers reported a total of 564 overuse injuries—139 were serious injuries such as stress fractures. The study found that the injured athletes participated in physical activity an average of 21 hours per week (11 hours of organized sports). In comparison, athletes who weren't injured participated in physical activity an average of 17.6 hours per week (9.4 hours in organized sports).
Year-Round Sports
With today's young athletes, sports have become a year-round lifestyle filled with non-stop training and competition. For example, baseball players often attend weekend tournaments and play in summer leagues in addition to their school teams. Cross-country and track runners are running 10-20 miles a day without incorporating days of rest and cross-training. As a result, these athletes are experiencing overuse injuries to one part of the body such as the shoulder or knee.
"It's very important for young athletes to rest and change their activity level with different types of sports and cross-training," Dr. Alpert explains. "If you're doing the same activity over and over without taking breaks or switching your routine, this can lead to overuse injuries and stress fractures."
Training the Right Way
To prevent overuse injuries, healthy training habits such as rest days and cross-training are key. For baseball pitchers, Dr. Alpert recommends limiting the quantity of pitches at one time and not pitching every day. For runners, a training routine should consist of interval and cross-training such as weight-lifting. Additionally, rest days are vital for muscles to heal after strenuous activity. Finally, young athletes should consider playing multiple sports year-round or cross-training to avoid strain on one muscle group.
"Parents and coaches need to instill healthy training habits at a young age," Dr. Alpert says. "Young athletes need to learn that they can't throw or run every single day. If they develop these habits at a young age, they will last a lifetime."
Related Posts
Comments
About the Author
health enews staff is a group of experienced writers from our Advocate Health Care and Aurora Health Care sites, which also includes freelance or intern writers.