Rookie doc helps save boy buried alive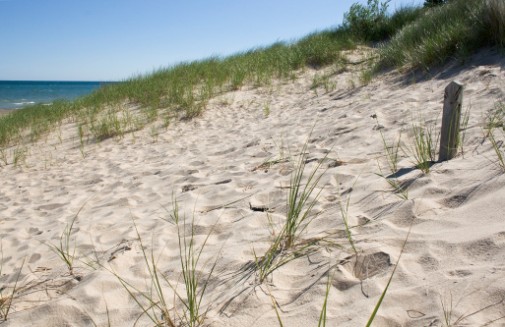 It started as a slower day than normal in the emergency department (ED) at Franciscan St. Anthony Health in Michigan City, Ind.
Dr. Justin Hepker, new attending physician on just his third shift in the 18-bed ED, was still getting to know his fellow doctors, nurses and technicians when the call came in at about 4 p.m.—the local EMS team was responding to a call of a person possibly buried at the Indiana Dunes National Lakeshore national park.
"It's a smaller ED in a smaller town, so you get to know the local EMS, police and fire department pretty well," Dr. Hepker says. "When the initial heads-up call came in at 4 p.m., I didn't know much about it. We prepared, but, as time went on, we didn't really expect him to be coming to the ED."
But that's just what happened nearly four hours later. Dr. Hepker and the staff received only about three minutes notice that a young boy who'd been buried by a sinkhole in the popular tourist attraction, was being rushed to them for treatment.
"I was shocked, at first, that he was there, after being buried so long," Dr. Hepker says. "But the shock had to be put aside very fast. I needed to go through the protocols and make certain I did all I could for him."
The young victim was a 6-year-old boy, who was rescued from under 11 feet of sand by rescuers who dug for three hours to get to him. The boy was visiting from the Quad Cities with his family.
Seeing the boy arrive, Dr. Hepker, who completed his chief residency at Advocate Illinois Masonic Medical Center in Chicago just last month, let his training kick in.
"He was so cold when he came in after being buried for so long," he says. "He was having a hard time breathing and was in shock. He had a lot of sand down his throat. We had to stabilize his airway to get him on the helicopter as quickly as we could."
Dr. Hepker says he and his team placed a breathing tube, with some difficulty due to the sand, in his airway. The team stabilized him and cleaned him up and had him on the helicopter to a children's hospital in Chicago within about 45 minutes.
"The whole experience was surreal. There were a ton of people in the room and everything happened so smoothly. It was an amazing experience."
Dr. Hepker says his residency training and medical education laid the foundation for his personal part in this success.
"A really sick kid is one of the scariest things for an ED physician," he says. "I don't think you ever feel completely comfortable with it."
It wasn't until afterwards, when the young patient was in the air and well on his way, that Dr. Hepker said he had the time to react to what he'd been through.
"I still had four hours in the shift, afterward," he says. "I broke down later in the shift, when it all caught up to me."
He says he's kept in contact with the boy's dad, receiving text message reports of his progress and has been as amazed as others by his recovery. He looks forward to seeing the boy again, now that he's been released from the hospital.
All in all, he said it's been an interesting start to his career.
"At the end of the day, we did our job. It was the team that saved this kid's life," he says. "We did what any ER team would have done. It's been strange to be recognized for something that we do every single day."
"Before that shift, I was the new guy—I didn't even know the names of all the people in the room. I'm not the new guy, anymore."
Related Posts
Comments
About the Author
health enews staff is a group of experienced writers from our Advocate Health Care and Aurora Health Care sites, which also includes freelance or intern writers.