4 tips to finding the right school backpack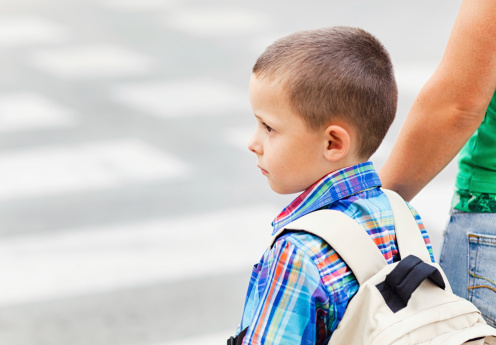 Picking out a backpack should be a fun, easy task for parents and their kids this summer, but may be harder than it looks. Experts say you should pay attention to the details to ensure your child has a quality backpack that will provide the most support and comfort.
One study found that children ages 11 to 14 experience back pain that they attribute to wearing their school backpack. A recent University of Michigan study found that the average student backpack weighed in at nearly 14 pounds. The numbers should give parents concern, doctors say.
Dr. Adam Ebreo, pediatrician with Advocate Children's Medical Group in Bloomington, Ill., recommends the following tips for parents when shopping for the upcoming school year:
1. Size. Make sure that the backpack fits comfortably on the child's back. Verify that the backpack has wide padded straps and that they lay comfortably on the mid-shoulder area. Also, double check to see that the backpack has a padded back as well. Some backpacks have an extra strap that goes around the waist of your child to help stabilize the backpack from moving. You want to make it comfortable so that your child can walk hands-free and not straining to balance while walking.
2. Materials. You may want to consider a backpack that is water resistant for those rainy days, so that books or homework don't get wet. Choosing a backpack that has multiple pockets may assist in helping spread out items to access them more easily as well as balancing weight. You may also consider a backpack that has reflective material so that your child can be seen more easily in the early mornings or late afternoons.
3. Type. Backpacks are popular to use, but if your child needs to carry heavier books and materials, you may want to consider purchasing a rolling backpack.
4. Carrying. When packing your child's bag, try to pack it light and keep the heavier books and other items in the center of the backpack. The American Academy of Pediatrics recommends that your child should carry no more than 10 to 20 percent of his/her body weight. Always use two straps as it helps even out the weight of the backpack. Uneven weight distribution can cause problems in the neck, back and shoulder areas as well other joint and muscle problems.
Dr. Ebreo says these are just a few tips to keep in mind this year and advises parents to invest in a quality, long-lasting backpack. But most importantly he says to have a fun and safe upcoming school year.
Related Posts
Comments
About the Author
Sarah Scroggins, health enews contributor, is the director of social media at Advocate Aurora Health. She has a BA and MA in Communications. When not on social media, she loves reading a good book (or audiobook), watching the latest Netflix series and teaching a college night class.