Dating violence shockingly common among teens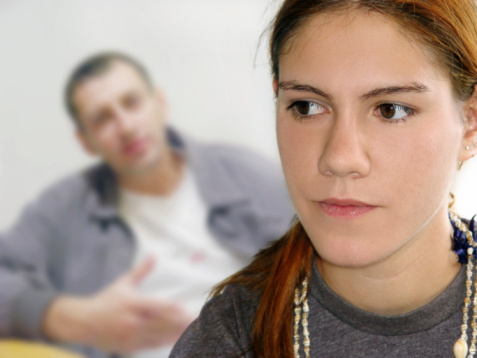 Surprising statistics from the American Psychological Association (APA) reveal that nearly one in every three teens between the ages of 14 and 20 experiences some type of dating violence. They also found that one in three teens confess committing violence towards a partner.  
The research, recently presented at the APA's Annual Convention, analyzed data from a 2011-12 Centers for Disease Control and Prevention (CDC) study that surveyed more than 1,000 youth.
Researchers found that 41 percent of girls surveyed experienced abuse in some form, but also 35 percent stated they committed the relationship violence. While 29 percent of boys have committed violent acts in a relationship, and 37 percent said they were victimized by a partner.
As defined by the CDC, teen dating violence can include physical, sexual or psychological/emotional violence that occurs in a relationship.
The research broke down the different types of violent behavior and found that girls were much more likely than boys to be victims of sexual dating violence and also more likely to commit physical dating violence. Boys report more often they were sexually violent in a relationship. Percentages were about equal for both boys and girls facing psychological dating violence.
Parents: Know the signs
Judy Petrushka, a domestic violence specialist at Advocate Good Samaritan Hospital in Downers Grove, Ill., says parents should educate themselves on the signs of an abusive relationship.
"Dating violence affects not only the teen, but parents, family and friends," Petrushka says. "Take the time to become aware of what dating violence and unhealthy relationships are and find ways to openly communicate them with both your daughters and sons."
LoveisRespect.org provides the following clues that your child may be in a violent relationship, either verbally or physically:
Your child's partner is extremely jealous or possessive.
You notice unexplained marks or bruises.
Your child's partner emails or texts excessively.
You notice that your son or daughter is depressed or anxious.
Your son or daughter stops participating in extracurricular activities or other interests.
Your child stops spending time with other friends and family.
Your child's partner abuses other people or animals.
Your child begins to dress differently.
Related Posts
Comments
About the Author
Sarah Scroggins, health enews contributor, is the director of social media at Advocate Aurora Health. She has a BA and MA in Communications. When not on social media, she loves reading a good book (or audiobook), watching the latest Netflix series and teaching a college night class.