Cheerleaders with concussions may downplay their injuries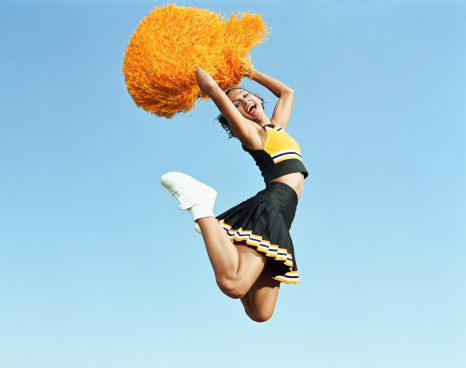 With the start of the fall sports season right around the corner, parents of cheerleaders may want to take note of new head injury research.
As concussions are an unfortunate part of high school cheerleading, a new study casts doubt on whether teens are able to accurately self-report their symptoms after a blow to the head.
Researchers say injured athletes should undergo "neurocognitive testing" rather than relying on the student's self-assessment of their symptoms before they return to the field. The findings will be published in an upcoming issue of the Journal of Pediatrics.
Study leaders looked at nearly 140 junior and senior high school cheerleaders who experienced concussions. To set a baseline, the group of cheerleaders were given neurocognitive testing before the season began. They were evaluated again after sustaining their injury using a testing tool called Immediate Post-Concussion Assessment and Cognitive Testing (ImPACT).
The computerized test measures concussion symptoms such as verbal and visual memory speed, reaction time and other indicators.
Study co-author Dr. Gary Solomon, from Vanderbilt University School of Medicine, said in a news release that the information gleaned from ImPACT was more helpful in determining the severity of the injury than only relying on the injured athlete's self-reporting. Their desire to stay in the game can influence their self-assessment.
"It is common knowledge that athletes may at times minimize or deny symptoms after injury to avoid being removed from competition."
Dr. Mark R. Lovell, also from Vanderbilt, said the specialized testing provides a more accurate diagnosis.
"We hypothesized that the use of ImPACT would result in an increased capacity to detect and measure post-concussive abnormalities in cheerleaders compared with symptom assessment alone."
Study leaders said "all concussions were diagnosed by a physician, athletic trainer, or other school health care official who was present at the time of injury."
According to the Centers for Disease Control and Prevention (CDC), nearly 175,000 children suffer sports-related concussions each year. In the last 10 years, the number of sports concussions has increased by 60 percent.
Dr. Ketan Mody, sports medicine physician at Advocate Good Samaritan Hospital in Downers Grove, Ill., says that concussions are a serious matter and could have long-term consequences.
"It is very important that we know how to diagnosis and treat concussions properly in order to keep our children safe," Dr. Mody says.
Related Posts
Comments
About the Author
health enews staff is a group of experienced writers from our Advocate Health Care and Aurora Health Care sites, which also includes freelance or intern writers.