1 in 5 women don't believe their breast cancer risk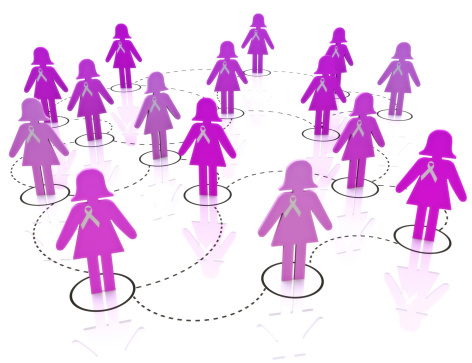 For some, the adage "Seeing is believing," may not always ring true. Nearly 20 percent of women did not believe they were at risk for breast cancer, despite taking an online risk assessment test that factored in family history and personal habits, a new study revealed.
The study, published in the August issue of the journal Patient Education and Counseling, examined how to improve patients' understanding of risk information. Participants in the study included some 690 women who were at above-average risk for developing breast cancer.
Participants used an Internet-based decision tool to answer questions about age, ethnicity, personal history of breast cancer and number of first-degree relatives who had breast cancer. The women were then told their five-year risk of developing breast cancer and given information on prevention strategies.
Most of the women who did not believe their risk numbers said they did not feel the assessment took into consideration their family history of cancer or their personal health habits.
"If people don't believe their risk numbers, it does not allow them to make informed medical decisions, said senior study author Angela Fagerlin in a statement.
The study found the most common reason women said they disagreed with their risk was that their family history made them either more or less likely to develop breast cancer.
In the study, five-year breast cancer risk was calculated using the Gail Model, a breast cancer risk assessment tool that only considers first-degree female relatives such as a mother, daughter or sister, to have impact on a person's breast cancer risk. The Gail Model risk is primarily based on estrogen exposure, such as age of first menstrual period and age at the time of first live birth of a child.
Many participants believed that because an aunt or father had cancer, it increased their risk. Others felt a lack of family history meant they were at a low risk for cancer.
Cancer risk assessment is more comprehensive than first-degree family history and hormone exposure; for this reason, patients were justified in questioning the risk assessment provided without taking into account their male relatives' history or second/third degree relatives.
One-third of women also felt by sheer gut instinct that their risk numbers seemed too high or too low.
"Women who believe their risk is not high might skip chemoprevention strategies that could significantly reduce their risk," explained Fagerlin, associate professor of internal medicine at the University of Michigan Medical School in Ann Arbor.
"And women who think that their risk should be higher could potentially undergo treatments that might not be medically appropriate, which can have long-term ramifications," she said.
"We have a trend toward personalized medicine and individualized medicine, but if people don't believe their personalized risk numbers, they're not going to get the best medical care for them," added lead study author Laura D. Scherer.
Related Posts
Comments
About the Author
health enews staff is a group of experienced writers from our Advocate Health Care and Aurora Health Care sites, which also includes freelance or intern writers.