Cystic fibrosis screening critical for newborns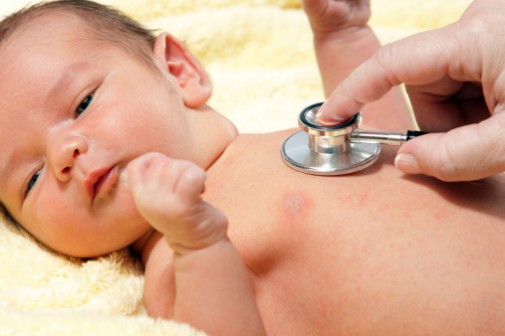 Newborns are screened for a number of disorders. In Illinois, infants are screened for nearly 50 various conditions, including hearing loss, sickle cell anemia, and as of 2008, newborns must also be screened for cystic fibrosis (CF).
CF is a genetic disorder that causes a build-up of thick, sticky mucus in the lungs, digestive tract and other areas of the body.
So why was CF added to the list of screenings?
Dr. Kim Danieli Watts, board certified pediatric pulmonologist with Advocate Medical Group in Park Ridge, Ill., says that it's because the earlier we intervene, the better patient outcomes can be.
With CF affecting about 30,000 children and adults in the United States, and 70,000 worldwide, according to the Cystic Fibrosis Foundation, early detection is key. More than 70 percent of patients are diagnosed by age 2.
The newborn screening process for CF involves a blood analysis and a selected panel of common CF gene mutations. When a patient has a positive screen for CF, the pediatrician will refer them to a specialized, accredited center, such as the pediatric Cystic Fibrosis Center at Advocate Children's Hospital in Park Ridge, Ill.
From there, an evaluation of the positive screening is conducted, which includes a sweat test and genetic counseling.
"A sweat test is the gold standard in CF testing where the amount of salt in the sweat is measured," Dr. Watts explains, who is an associate director of the Cystic Fibrosis Center.
Treatment is then based on one of three outcomes, she says. "If you have a normal sweat test then you go home with some genetic counseling. If you have a borderline sweat test, more testing is needed later to clarify the results."
She says that if the test is positive for CF then treatment for the disorder begins.
"Cystic fibrosis is mostly a problem with sweat, a problem with the gut and a problem with the lungs," Dr. Watts explains. CF patients lose a lot of salt through their sweat, which means their bodies require more salt intake, especially when it's hot, which Dr. Watts says the CF Center helps with.
"We can help with the gut," she says. "With CF, your body doesn't make enzymes to help with digestion so we replace those with enzyme replacement therapy, which patients take at every meal."
And then, there's the lung issue. "Right now, lungs are largely helped with drugs that help prevent infection and reduce symptoms," Dr. Watts says. She explains that the CF community is moving toward targeting treatments to the actual defect itself.
"This is what makes newborn screens even more important so they stay healthy as long as they can because they're starting from a better baseline," she adds.
Nutritional counseling also plays a key role in the treatment of CF, Dr. Watts says.
"Good nutrition, good weight and BMI not only help the patient overall but have been shown to be associated with better lung health," she explains.
Enzyme replacement therapy and proper nutrition help patients ensure their body mass index and weight are normal, if not above normal. Nutritional counseling also means a high-fat, high calorie diet specified by a nutritionist, she says.
Although CF is a life-threatening disease, one of the key goals of the CF community is to change CF from a life-shortening disease to a chronic disease that can be managed, Dr. Watts says. The predicted average age of survival for those with CF is the late 30s, according to the Cystic Fibrosis Foundation, but Dr. Watts adds that life expectancy is increasing all the time.
"Part of the discussion I have with parents is the goal to transition their children to adult care, and they should expect their children to become adults at the time of diagnosis," she says. "It's a very time-intensive disease. Treatments can take up to three hours a day. It takes years of medication, hours and time. It's a marathon. But our CF care is family-centered so we work in partnership with families, and we treat the whole patient," Dr. Watts adds.
Related Posts
Comments
About the Author
health enews staff is a group of experienced writers from our Advocate Aurora Health sites, which also includes freelance or intern writers.