Breast Cancer at 36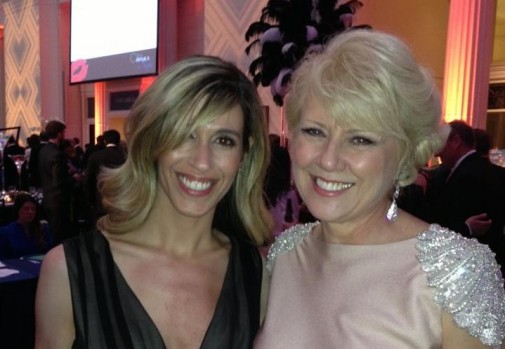 Jeannine Canino-Bieda got the news on a chilly Christmas Eve morning.
Her yearly ultrasound revealed something troubling. A follow-up MRI confirmed the suspicion. She had breast cancer.
The 37-year-old from Evanston says the diagnosis knocked her back but didn't knock her down.
"When I got this news, I knew I had two choices," Canino-Bieda said. "I could either fold or play the card I was dealt. I was not going to fold."
Canino-Bieda journey started five years ago when she discovered a lump during a self-breast exam. Knowing this could be serious, she immediately made a doctor's appointment.
"Thankfully the lump was just a benign cyst," Canino-Bieda said. "I figured that was it and I could forget about it but my physician suggested I see a specialist for a follow up exam."
Her doctor's advice proved to be wise.
Canino-Bieda met with Dr. Barbara Krueger, an oncology surgeon who specializes in breast cancer treatment at Advocate Christ Medical Center, Oak Lawn, Ill.
Dr. Krueger ordered an ultrasound which showed that Canino-Bieda also had fibroid tumors (fibrosis) in her breast.
According to the American Cancer Society (ASC), fibrosis is very common, doesn't increase the chances of breast cancer and doesn't require special treatment. But the fibrosis discovery compelled Dr. Krueger to recommend that Canino-Bieda have a yearly ultrasound.
That advice may have saved her life.
In December of 2012, Canino-Bieda was diagnosed with infiltrating ductal carcinoma. The ACS says it is a common form of cancer and happens when cancer cells are found inside the breast ducts but have not spread to the surrounding breast tissue.
Treatment included a lumpectomy, which involves the removal of the tumor and some of the surrounding tissue, the removal of three lymph nodes, radiation treatments and a five-year regimen of the cancer drug tamoxifen.
Canino-Bieda said she couldn't have gotten through the process without the support of her husband Joe, her sister, Dr. Diana Bottari, her best friend and the encouragement of Dr. Krueger.
"She was so reassuring and compassionate with all this," Canino-Bieda said. "She kept telling me that I was going to be okay even though I wasn't so sure at the time."
Dr. Krueger says Canino-Bieda's attitude was inspiring considering the challenge.
"In the face of this devastating diagnosis at such a young age, she reacted with incredible resolve, humor (which was amazing, and is an effective part of her strength), and virtually no self-pity," Dr. Krueger said. "She's an amazing girl, with a luminous personality who has faced cancer head-on and has not let it take away her spirit."
The treatment plan has been effective and the prognosis is good, Canino-Bieda said. But the journey isn't over—she says, she's grown through the experience.
"I was always pretty strong but am now stronger than I ever was," she said. "But there is still a long way to go."
Canino-Bieda says Dr. Kreuger has become like a member of her family during a tremendously emotional roller coaster ride.
"Dr. Krueger is such a blessing; she's an amazing, caring, compassionate physician," Canino-Bieda said. "She made me feel like I was the most important person in the world and at that moment, in her eyes, I really was. She saved my life!"
And throughout the journey, Canino-Bieda says she has avoided feeling sorry for herself and tries to keep it all in perspective.
"I have never said 'why me?' during this whole thing, I kept saying "why not?" I'm no more special than the next person," she said.  "Cancer does not discriminate, it's random and it happens.  I refuse to let this define me as a person; it's just a chapter in my book."
For more information on breast health, visit www.Storiesofthegirls.com.
Related Posts
Comments
About the Author
health enews staff is a group of experienced writers from our Advocate Health Care and Aurora Health Care sites, which also includes freelance or intern writers.