A 10 percent weight loss can lessen knee pain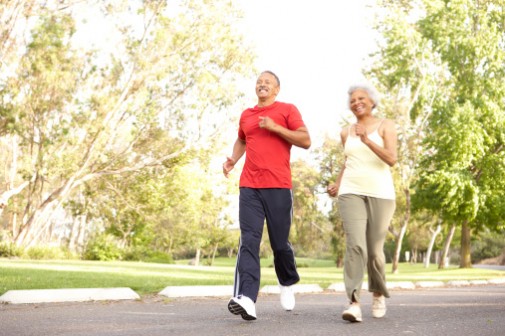 Having osteoarthritis in your knees can be debilitating, resulting in pain, less mobility and a lower quality of life. For many people with this condition, knee replacement surgery is a common treatment option. However, a new study finds that older overweight adults with osteoarthritis knee pain may benefit from losing just 10 percent of their body weight.
According to the study, published in the Journal of the American Medical Association, losing 10 percent body weight showed a decrease in knee pain and an increase in mobility among overweight adults ages 55 or older. This is a follow-up to an earlier study that found benefits of a 5 percent reduction in body weight on knee pain and mobility.
"Weight has a major impact on our muscles and joints," says Dr. Jeffrey Kazaglis, orthopedic surgeon at Advocate Sherman Hospital, Elgin Ill. "There is a phenomenon with our body weight that manifests during activities of daily living such as walking up and down stairs. When walking up stairs, you generate a force two times your body weight. For example, if you weigh 250 pounds, your muscles and joints sustain a weight of 500 pounds. If you walk down stairs, your joints experience a force that is seven times your body weight."
The 18-month study included 454 overweight adults who were assigned to a diet only, exercise only, or diet and exercise combined program. The diet-and-exercise group experienced the greatest benefits—less knee pain, reduced inflammation, quicker walking speed and higher quality of life.
"Statistically, exercise alone does not result in weight reduction," Dr. Kazaglis says. "If you are new to exercising and suddenly start a routine, you'll be much hungrier because you're burning calories. As a result, the calories you burn with exercise will be offset with increased food intake. In order to effectively lose weight, you have to increase your exercise and reduce your caloric intake at the same time."
Excess weight has a significant impact on how our bodies function. For example, people who are overweight or obese have weak, deconditioned muscles that are less effective in stabilizing the joints, Dr. Kazaglis explains. Therefore, more force is applied to the joints causing pain, especially when combined with osteoarthritis.
According to Dr. Kazaglis, it's important to note that losing weight can slow the effects of osteoarthritis; however, it cannot stop or reverse its progression.
"Arthritis is a gradual loss of articular cartilage. Once you lose that cartilage, it is gone forever," Dr. Kazaglis says. "That's why losing 10 percent body weight is perhaps most beneficial in the early stages of osteoarthritis.  I always talk to my patients about the benefits of weight reduction and how much better they would feel if they lose even a small amount of weight."
Related Posts
Comments
About the Author
health enews staff is a group of experienced writers from our Advocate Health Care and Aurora Health Care sites, which also includes freelance or intern writers.