Debunking the 'carbo-loading' myth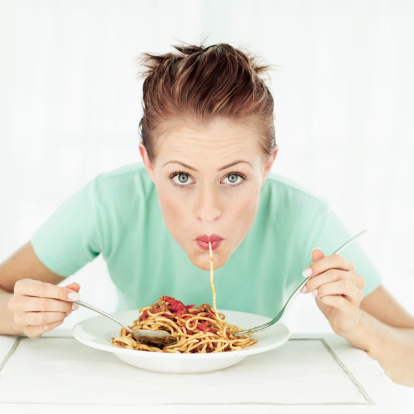 Even if you haven't run a big race before—and the upcoming Chicago Marathon is one of the biggest —you've probably heard about the pasta parties racers have the night before. But does all that spaghetti really work?
"Carbo-loading the night before is a bit of a myth," says Barbara Melendi, registered dietitian with Advocate Illinois Masonic Medical Center in Chicago. "If you're going to carbo-load, you really should be doing it throughout your training. You need to train your digestive system like you train your body. You can't load it up all at once and expect to have your best performance."
But, with just a few days left before the event, you still have time to get your system ready, she says.
"From here on out, your meals should have carbohydrates at the center," Melendi says. "Carbs have gotten kind of a bad rap. So while training, at least 50 percent of your calories should come from carbs. They're the main energy source for muscles."
She says anyone endurance training for more than 90 minutes a day needs to load up the carbs daily, though you also need to choose the right carbs. It's not about huge pasta meals, Melendi says, but about a healthy variety that contains whole grains, vitamins, minerals and anti-oxidants. Avoid processed foods, opting for "foods in their most natural state," she says.
Many people don't realize it, but fruits are an excellent source of carbs and contain the nutrients—fiber and vitamins—your body needs to thrive as you push it, she says.
"A lot of people think pizza is a good source of carbs, but with all the other ingredients, you're really getting more fat than anything else."
And if you do happen to put it off to the last minute, don't carbo-load the night before the race, she says.
Instead, Melendi recommends a carb-heavy breakfast or lunch the day before, which will give your body time to digest, followed by your normal dinner and a carb-rich snack right before bedtime. If you think your nerves may get the better of you on race day, suppressing your appetite, try eating a healthy "breakfast" just before you go to sleep the night before, she adds.
"Many people who load up the night before end up in gastrointestinal distress the morning of the race, which is just going to make those 26.2 miles even more difficult," she says. "You need to give your body time to digest."
And it's not all about the carbs. Melendi says the other key with endurance training is hydration.
She says to make doubly sure you're drinking enough water. For each long run, you need to make sure you're drinking back the weight you lost in fluids. But be sure you're sipping over time, not guzzling all at once, she says.
"And don't wait until you exercise to hydrate," Melendi cautions. "Drink well before and well after. Your muscles will need the steady hydration to recover from the strain and depletion."
Training your digestive system takes as much attention as training your body, Melendi says. She recommends speaking with a dietitian for some one-on-one nutrition training as race day approaches.
Related Posts
Comments
About the Author
health enews staff is a group of experienced writers from our Advocate Aurora Health sites, which also includes freelance or intern writers.