Is gluten safe for babies?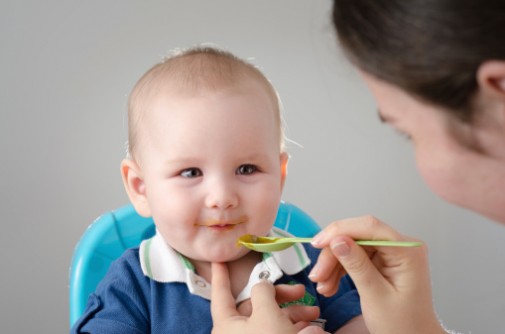 If a baby is introduced to gluten after six months, does it increase the chances of developing celiac disease? A recent study speculates yes.
A research team in Norway gathered data on 107,000 children in the Norwegian Patient Register. The study, published online in the journal Pediatrics, looked at how and when the introduction of gluten, a protein found in grains like wheat, rye and barley, occurred during the first six months of life and the effects it has on health.
Dr. Ketil Stordal, lead researcher and consultant pediatrician at the Norwegian Institute of Public Health, reported that the introduction of gluten after six months is associated with a higher risk of celiac disease.
Among the 82,200 children who made it to the final analysis, babies who started eating food with gluten before or at four months developed celiac disease in 8 percent of the cases. Babies who started eating food with gluten after six months developed celiac disease in nearly 47 percent of the cases.
While there seems to be a connection, Stordal conceded that his study does not establish a direct cause-and-effect relationship. More studies are needed to confirm if there is a direct correlation.  Additional research is also needed to prove that there is in fact a critical time during the four to six month period when it is important to introduce small amounts of gluten to a child's diet.
With nearly one in 133 Americans diagnosed with celiac disease, according to the National Foundation for Celiac Awareness (NFCA), gluten is a hot topic these days. Celiac disease is an autoimmune digestive disease that damages the villi of the small intestine and interferes with absorption of nutrients from food, according to the NFCA. Those affected by have an immune response to gluten. The only known treatment is to avoid it.
Stordal's report does not come without controversy, especially since the American Academy of Pediatrics recommends exclusive breast-feeding for six months and gradually decreasing breast milk while solids are increased up to one year. Dr. William Muinos, co-director of pediatric gastroenterology at Miami Children's Hospital in Florida states that it is more important to look at genetics than if a baby has gluten early in life. He states, "That's what we have to focus on – the genetic makeup of these patients and not whether they get introduced to gluten early or late…that's not the issue."
Carrie Ek, coordinator and clinical nutritionist at Advocate Children's Hospital Pediatric Celiac Center in Park Ridge, Ill., agrees with Dr. Munios. She says that the research is misguided.
"About one percent of the population is estimated to have celiac disease and most people do not know they have it," Ek says. "We need better lab tests and better training for medical students, resident physicians and most importantly pediatricians and internists who are on the front line seeing patients that have undiagnosed celiac disease."
Ek adds that we should be focusing our time, energy and even dollars into better diagnosising the disease in children and adults.
Related Posts
Comments
About the Author
health enews staff is a group of experienced writers from our Advocate Health Care and Aurora Health Care sites, which also includes freelance or intern writers.