Can long ICU stays cause dementia?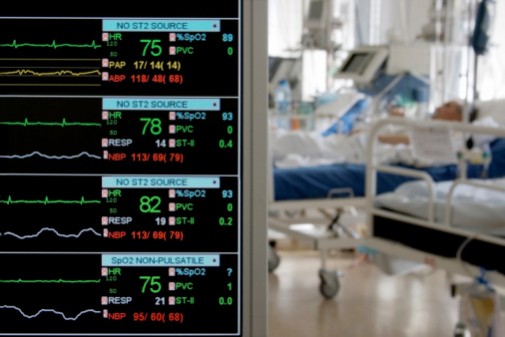 Can patients who receive long-term treatment in a hospital intensive care unit (ICU) experience signs of dementia, even if they had no signs of it before?
According to a study recently published in the New England Journal of Medicine this may actually be true for some patients.
Looking at data from 821 participants ranging from ages 18 to 99 admitted to Vanderbilt University Medical Center and Saint Thomas Hospital in Nashville, researchers found that one out of three ICU patients, approximately 74 percent, suffered post-mental effects similar to moderate traumatic brain injury following their ICU stay. And even more surprising was the fact that that one out of four patients had impairments similar to a mild state of Alzheimer's disease.
But perhaps the most shocking revelation of the findings is that only 6 percent of these patients had any pre-existing cognitive impairment at all. Additionally, the effects occurred regardless of the patient's gender, age or pre-existing health conditions.
A lead author of the study at Vanderbilt noted that an important factor was that the patients experienced delirium during their stay in the ICU, which is an acutely disturbed state of mind that is characterized by restlessness, illusions and incoherence of thought and speech. The belief is that delirium is brought on by longer sedation times.  The longer the delirium, the worse problems with memory and thinking persisted with patients post-discharge.
A further drill down of the results showed that 40 percent of the patients who received cognitive testing three months following discharge had results similar to patients who experienced moderate traumatic brain injury, and 26 percent scored similar to patients who have mild Alzheimer's. Even a year later, 34 percent scored similar to patients with traumatic brain injuries, while 24 percent had Alzheimer's like test results.
Experts say more and more hospitals across the country are taking steps to combat this problem by reducing sedation times and increasing physical activity during their stay in the ICU.
"One of the most important things we can do as clinicians is helping to prevent delirium by putting interventions into place," said Sue Durkin, clinical nurse specialist for geriatrics at Advocate Good Samaritan Hospital in Downers Grove, Ill.
At Downers Grove, Illinois-based, Advocate Health Care, a system-wide initiative began earlier this year, called the Confusion Assessment Method (CAM). The program was spearheaded by a team of geriatric nurses as part of the Nurses Improving Care for Healthsystem Elders (NICHE) program. CAM is a research based assessment tool for delirium, developed to identify and document signs of the disease. Clinical staff are provided with extensive education in the assessment and recognition of delirium in elderly patients.
Additionally, nurses are specifically trained on preventive measures while also providing information for patients and families. The NICHE coordinators at each Advocate site know that some preventive measures can be as simple as having eye glasses and hearing aids on hand for patients; keeping them hydrated; encouraging mobility; effective sleep patterns; pain control; and actively engaging them in mind games or socialization to help promote a more normal daily routine.
"While there is no specific treatment option or drug for delirium," Durkin says. "Prevention is noted in a number of guidelines as the best treatment."
Related Posts
Comments
About the Author
health enews staff is a group of experienced writers from our Advocate Health Care and Aurora Health Care sites, which also includes freelance or intern writers.