Lower your child's risk of SIDS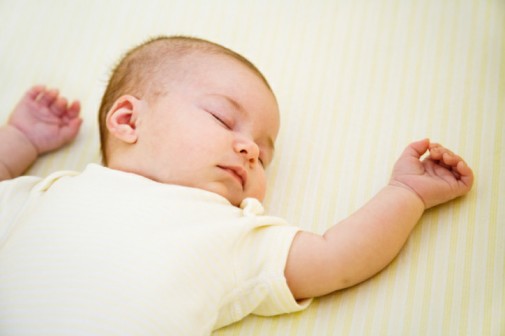 October is SIDS Awareness Month, so health enews is sharing tips on how to reduce your baby's risk of sudden infant death syndrome (SIDS).
According to the American Academy of Pediatrics (AAP), SIDS is the unexpected death of seemingly healthy babies under the age of 1. It is the leading cause of death among infants aged 1-12 months, with more than 2,200 deaths annually. It is diagnosed when no other cause of death can be determined by investigation, autopsy or the baby's medical history.
Babies who get too hot are at greater risk of SIDS, according to the journal Pediatrics published by the AAP. Pediatricians caution new parents to avoid the temptation of "overheating" their babies at bedtime.
"Your baby should be wearing the same amount of clothing as that of an adult in that temperature," says Dr. Aaron Traeger, a pediatrician with Advocate Medical Group Primary & Urgent Care in Normal, Ill. "Extra heaters, extra blankets aren't necessary. If you're comfortable in the room, your baby is, too."
While the exact cause of SIDS remains unknown, the AAP has identified several measures that can reduce the risk. In addition to preventing overheating, the AAP strongly recommends:
Always put babies to sleep on their backs, rather than on their tummies or sides. Remember: "back to sleep, tummy to play," Dr. Traeger says. "Tummy time should be celebrated and played as much as possible during the day when your baby is awake."
Place babies on a firm sleep surface with a tight, fitted sheet.  Never put a baby to sleep on a chair, sofa, water bed or cushion.
Keep soft objects, loose bedding and bumper pads out of the crib. "No stuffed animals, no toys, no extra blankets," Dr. Traeger cautions. These items increase the risk of entrapment, suffocation or strangulation.
Place your baby to sleep in the same room as you, but not in the same bed. Babies can get tangled in sheets or blankets or a parent can roll on top of them while asleep.
Breastfeed your baby as much and as long as you can.
Stay current with all of your baby's immunizations.
Keep your baby away from tobacco smoke. If you smoke, try to quit. Until then, keep your car and home smoke-free.
Offer your baby a pacifier at naptime or bedtime. Some babies won't take a pacifier, but for those who will, be sure that the pacifier doesn't have a cord or other attachment that could cause strangulation.
Avoid products that claim to reduce the risk of SIDS.  "Baby monitors that claim to reduce or prevent SIDS have not been shown to be effective and are unnecessary," Dr. Traeger says.
Related Posts
Comments
About the Author
health enews staff is a group of experienced writers from our Advocate Health Care and Aurora Health Care sites, which also includes freelance or intern writers.