Cancer sniffing dogs?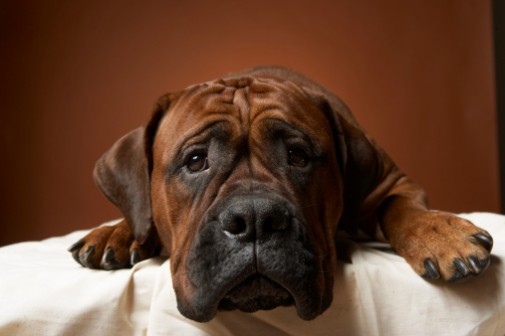 We've heard of drug-sniffing dogs and bomb-sniffing dogs. Dogs sniff out crime scenes and help find remains. But ovarian cancer sniffing dogs? Now that's something new.
It may sound a little out of this world, but the Working Dog Center of University of Pennsylvania (Penn) School of Veterinary Medicine, along with three departments at the university, are working on a new method of detecting ovarian cancer. Yes, it is by using dogs to sniff out ovarian cancer early in the disease progression.
What's better, their research seems promising. So far, all three dogs trained to sniff out ovarian cancer have found it 100 percent of the time. The study is small, but it gives researchers great hope.
The dogs don't actually sniff people. They sniff out tissue samples in metal buckets. Patients from Penn Medicine (those with and without ovarian cancer) have generously donated tissue and blood samples in hopes they will help find a reliable early detection practice.
How does it work?
When ovarian cancer begins to develop, women's bodies change. Here's the short version of the science. Volatile organic compounds (VOC), also called odorants, change in the early stages of ovarian cancer. Researchers say that previous studies have shown that trained detection dogs (with a little help from specialized electronic devices) can detect tiny amounts of odorants. What the Penn researchers are hoping to do is develop a new, sensitive system of screening for ovarian cancer using dogs' enhanced sense of smell.
Are we there yet? Not quite. But we're close. This study shows that there is hope for an easy way to detect a cancer that, right now, is rarely detected before it has spread to the lymph nodes and beyond.
Ovarian cancer statistics
According to the Ovarian Cancer National Alliance, about 22,000 women will be diagnosed with ovarian cancer every year in the United States. And every year, approximately 15,000 women die from the disease. But that doesn't have to happen. There are symptoms of ovarian cancer, and the more you know about them, the better your chances are of catching this deadly cancer before it's too late.
Ovarian cancer symptoms
According to the National Ovarian Cancer Coalition, the symptoms of ovarian cancer are:
Bloating
Pelvic or abdominal pain
Trouble eating or feeling full quickly
Feeling the need to urinate urgently or often
Other symptoms of ovarian cancer can include:
Fatigue
Upset stomach or heartburn
Back pain
Pain during sex
Constipation or menstrual changes
Dr. Patrick Lowe, a gynecologic oncologist with Advocate Medical Group, stresses that not all women will experience all of the symptoms. Some women may not even notice the symptoms if they do appear. His advice?
"Listen to your body. Pay attention to even the smallest changes, and never ignore symptoms," he says. "Changes in your body may be your body's way of trying to tell you something.
Also, if your doctor tries to tell you that your symptoms must be from something else – like stress or irritable bowel syndrome or even aging – Dr. Lowe says it's ok to find another doctor to get a second opinion. Remember, if you detect ovarian cancer before it spreads, statistics show you have a 91.5 percent chance of survival. But if ovarian cancer has spread outside of the ovaries and pelvic region, the chances of survival are much lower.   
"So don't be afraid to ask your doctor about ovarian cancer, Dr. Lowe says, "And never brush off minor symptoms that could be ovarian cancer."
Related Posts
Comments
About the Author
health enews staff is a group of experienced writers from our Advocate Health Care and Aurora Health Care sites, which also includes freelance or intern writers.