Breast cancer at 26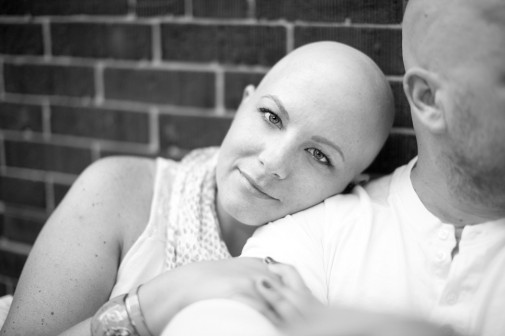 At 26-years-old, Chicago resident, Lauren Wakefield, didn't think much of the lump she found on her breast in October 2011.
Still, Lauren mentioned it to her gynecologist at her annual visit a week later. Her doctor sent her for an ultrasound and then a biopsy.
"Everyone kept telling me it was nothing, that everything looked great," she says. "I was one of those people who thought this would never happen to me. Maybe when I'm 50, but not now. So I thought, no way, this is nothing."
But the biopsy results showed that it was something. Lauren had stage II breast cancer.
About 7 percent of women diagnosed with breast cancer are under the age of 40, says Dr. Ann Mauer, medical oncologist at Advocate Illinois Masonic Medical Center in Chicago.
"While uncommon, the truth is women under age 40 can get breast cancer," Dr. Mauer says.
Understanding age and breast cancer
Although being young and healthy often offers an advantage when facing a health issue, that's not always the case with breast cancer. The American Cancer Society (ACS) shows that women who are diagnosed with breast cancer before age 40 actually have a slightly poorer outlook than older women. The five-year survival rate is about 82 percent, compared to 85 percent for women ages 40 to 74, according to the ACS.
"The difference in survival can be attributed to the finding that younger women are more likely to have aggressive tumors," Dr. Mauer says. "Women under 40 usually don't get annual mammograms—the ACS recommendation is to begin annual screening at 40. So cases often aren't caught until the woman herself notices a lump, as in Lauren's case. By that time, the cancer is often more advanced."
Knowing your family history
Genetics may play a role in breast cancer.
Lauren's mom had breast cancer when she was in her 50s and other family members also have a history of cancer. She met with Melody Perpich, MS, LGC, genetic counselor at Advocate Illinois Masonic, and had testing for BRCA1 and BRCA2 mutations as well as a gene called TP53, common hereditary causes of early-onset breast cancer. The results were negative.
"Even though I already had cancer, finding out I was BRCA-negative was a big relief because it meant I had a lower chance getting breast cancer again in the future and that I didn't have an increased risk of ovarian cancer," Lauren says.
Dr. Mauer recommends that women who have an immediate family history of breast cancer begin getting regular mammograms 10 years earlier than the age at which their mother or sister was diagnosed.
"Gather as much information as possible about medical issues on both your maternal and paternal sides," Perpich says. "That includes the type of cancer and age at diagnosis, as well as other causes of death in your family. Go as far back as possible—at least three generations, if you can."
If cancer runs in your family, you may want to consider genetic counseling, Perpich says.
Staying Positive
When Dr. Mauer told Lauren she needed chemotherapy, she left the office refusing to do it. Her fiancé changed her mind, and from then on, she kept a positive outlook.
"I decided I just wanted this to be something fun—I guess 'fun' doesn't really go with chemo—but when else in your life are you going to get a chance to spend five hours with your best friends every three weeks with nothing else to do but play cards, read magazines and hang out? I thought why not take this bad thing and turn it into something good?"
Lauren's upbeat attitude helped her cope with the challenges of treatment, Dr. Mauer says.
Today, after three surgeries, six chemotherapy treatments and six weeks of radiation therapy, Lauren says she's feeling great. Aside from visits to Dr. Mauer every three months, she says she doesn't think about her breast cancer too often. She's busy running her wedding photography business and preparing with her fiancé for their own wedding in April 2014.
"This whole experience has 100 percent changed me as a person. I always thought I was invincible and that's just not the case," Lauren says. "But this is something that happened in my life, and I overcame it."
See a photo slideshow of Lauren's journey. Slideshow by Lauren Wakefield. Photos by Sidne Hirsch and Christy Tyler.
Story image credit to: Christy Tyler.
Related Posts
Comments
About the Author
health enews staff is a group of experienced writers from our Advocate Health Care and Aurora Health Care sites, which also includes freelance or intern writers.