5 benefits of 3D mammography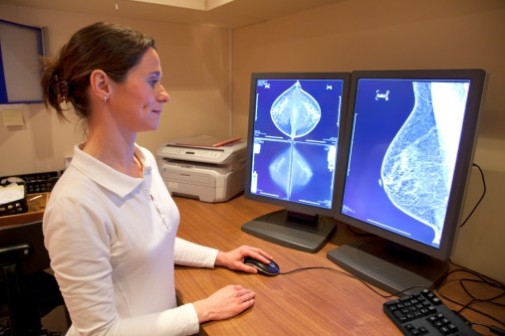 In the high-tech world, it's the sexiest thing in breast screening technology, but 3D mammograms are more than just gadgetry. They are cutting down on the need for multiple tests and saving women a whole lot of angst about potentially positive diagnoses.
Using standard mammography, many women undergoing breast screening are asked to return for additional tests because of a suspicious density that appears in their scans. The request for more testing can prove a terrifying experience as the patient's thoughts focus on the possibility that she has breast cancer.
Such anxious moments can now often be avoided, thanks to 3D mammography (breast tomosynthesis), an advanced tool that is FDA-approved. At the same time, 3D mammography aids in diagnosis if a tumor is present. The technology uses multiple angled images as the machine sweeps in an arc over a woman's breast. The radiologist views these images sequentially. A mass will stand out in the scan—not be camouflaged by dense breast tissue as sometimes occurs with traditional 2D mammography.
"Breast tomosynthesis will benefit screening and diagnostic breast imaging patients and can be especially valuable for women receiving a baseline screening and for those who have dense breast tissue," says Dr. Elizabeth Holland, radiologist at Advocate Christ Center for Breast Care.
The following are the top five benefits of 3D mammography according to Dr. Holland:
1)    More accurate detection: By minimizing the impact of overlapping breast tissue, 3D mammography can make a tumor easier to see. Reviewing multiple images has helped doctors find more cancers than with 2D images alone.
2)    Earlier diagnosis: Overlapping tissue can hide small cancers in a 2D scan. However, with 3D mammography, the image "slices" can be analyzed one by one. This means 3D mammography may help detect cancers earlier than conventional mammography.
3)    Better detection in dense breast tissue: Dense breast tissue, often found in younger women, can cause shadows due to overlapping tissue, which hides tumors from traditional 2D mammography. 3D mammography takes images of the breast from multiple angles, thereby offering a cutting-edge look through and around breast tissue.
4)    Less Anxiety: 3D mammography can help reduce false alarms. The improved accuracy in diagnosing abnormal structures offered by a 3D view of the breast decreases the number of unnecessary callbacks to women for additional scans and biopsies.
5)    Safe and Effective: During a 3D mammogram, women will experience a minimal amount of additional radiation, compared with a standard mammogram. However, this dose is below the FDA-regulated limit for mammography, and no additional risk from an amount of radiation this small has been shown. The FDA studied the radiation issue before approving screening and diagnostic 3D mammography, concluding that the benefits outweigh any potential risk.
Breast cancer is the second leading cause of cancer deaths among women, exceeded only by lung cancer, according to the American Cancer Society. Detecting cancer at an earlier stage will influence a woman's chance of survival.
Related Posts
Comments
About the Author
Julie Nakis, health enews contributor, is manager of public affairs at Advocate Children's Hospital. She earned her BA in communications from the University of Iowa – Go Hawkeyes! In her free time, she enjoys spending time with friends and family, exploring the city and cheering on the Chicago Cubs and Blackhawks.