Quit smoking today for a healthier tomorrow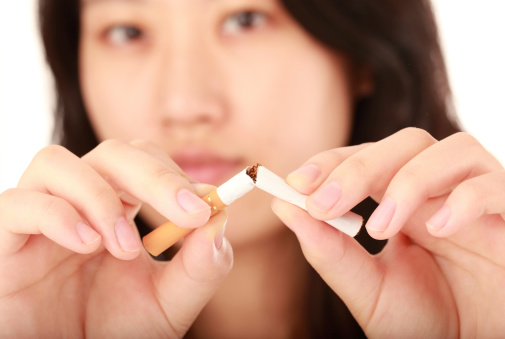 Not many people strive to be a quitter. But a good time to be one is when trying to kick the tobacco habit.
Annually on November 21, the American Cancer Society (ACS) hosts the Great American Smokeout to encourage smokers to use the date to make a plan and start the journey to become smoke-free. By quitting — even for one day — smokers will be taking an important step towards a healthier life – one that can lead to reducing cancer risk.
"I always tell my patients I am here to help, since quitting will be one of the healthiest decisions one can make in their lifetime," says Dr. Robert Malecki, a family medicine physician with Advocate Good Shepherd Hospital in Barrington, Ill.
"In the United States alone, smoking is responsible for nearly 1 in 5 deaths which is completely preventable," he says. "Smoking is the number one preventable cause of heart disease and has a strong relation to all forms of cancer, not just lung cancer. Smoking also leads to other pulmonary diseases such as chronic obstructive pulmonary disease (COPD), pneumonia and bronchitis, as well as many other illnesses such as gastritis and ulcer formation."
Quitting can be one of the most difficult things to do and may require multiple tries. The process of becoming an ex-smoker involves coping with withdrawal symptoms, lifestyle changes, patience and persistence.
According to recent studies, only about 4 to 7 percent of people are able to quit smoking on any given attempt without medicines or other help. Studies also show that about 25 percent of smokers who use medicines can stay smoke-free for more than 6 months.
As one of the most preventable causes of death in the U.S. and a cause of staggering health care costs, quitting is of importance to all involved.  Each year about 443,000 people in the United States die from illnesses related to tobacco use. And smoking cigarettes kills more Americans than alcohol, car accidents, suicide, AIDS, homicide and illegal drugs combined.
"We can offer patients as much support as they need through counseling and other types of emotional support, which can boost success rates higher than medicines alone," Dr. Malecki says. "There's also early evidence that combining some medicines may work better than using a single drug which I have found successful as well. The key is to find that factor that will motivate you as you try to quit."
According to the ACS, the benefits of quitting start immediately and can last a lifetime, including:
20 minutes after quitting:
Your blood pressure drops to a level close to that before the last cigarette.
The temperature in your hands and feet returns to normal.
12 hours after quitting:
The carbon monoxide level in your blood drops to normal.
2 weeks to 3 months after quitting:
Your circulation improves.
Your lung function increases up to 30%.
1 to 9 months after quitting:
Coughing, sinus congestion, fatigue and shortness of breath decreases.
The cilia in the airways regain normal function in the lungs, increasing ability to handle mucus, clean the lungs, and reduce infection.
1 year after quitting:
Risk of coronary heart disease is half that of a smoker.
5 years after quitting:
Stroke risk is reduced to that of a nonsmoker.
10 years after quitting:
Lung cancer death rate is about half that of a current smoker.
Risk of cancer of the mouth, throat, esophagus, bladder, kidneys and pancreas decreases.
15 years after quitting:
Risk of coronary heart disease is that of a non-smoker.
"I try to encourage my patients to do whatever it might take to quit since overall they live a much healthier life and that is what we strive for. No one 'needs to smoke,'" he says. "It is a habit that we become accustomed to and it can be broken."
Related Posts
Comments
About the Author
health enews staff is a group of experienced writers from our Advocate Health Care and Aurora Health Care sites, which also includes freelance or intern writers.