How children with diabetes can have a sweet holiday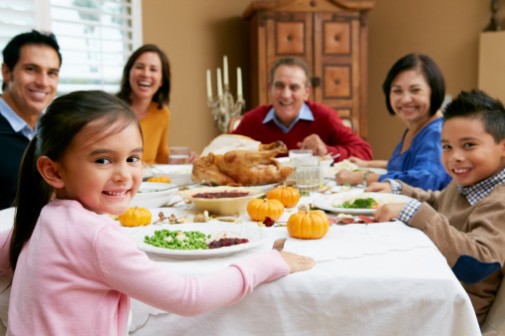 The holiday season is a time for family and friends to gather, socialize and – usually –feast. But, feasting may not be for everyone.
In fact, the American Diabetes Association reports that 215,000 people under the age of 20 in the United States have diabetes.
Uncontrolled diabetes can lead to loss of limbs due to poor blood circulation, blindness and even death. That's why it is so important for parents who have a child with diabetes to balance their child's excitement of the holidays with proper diet to maintain a correct level of blood sugar.
To help parents accomplish this, Dr. Vidhya Viswanathan, a pediatric endocrinologist with Advocate Children's Hospital in Oak Lawn, Ill., has a few holiday health tips:
Planning ahead is very important if family or friends are preparing the meal. I encourage parents to use apps and/or websites, such as Calorie-Count.com, MyFitnessPal.com or Nutritiondata.com, to count the number of carbohydrates in a meal." Meals that contain all sweets can have negative effects on blood sugars.  Parents must make sure their child is eating a balanced meal with lean meats, proteins and vegetables. 
Bring sugar-free drinks to a holiday celebration in case the host does not have any.
Stay active! Exercising during the holidays may help keep blood sugars normal.
Set a sleep schedule for your child and try to follow it as best as possible. While flexible insulin regimens do allow for children to sleep longer, allowing any child to sleep into the afternoon is unhealthy. 
"As always, the best way to ensure blood sugars are balanced is to regularly check them," Dr. Viswanathan says. "Low and high blood sugars can physically feel the same."
For that reason, Dr. Viswanathan says parents or the child must use a glucometer to actually check the blood sugar level regularly. Children whose sugar levels are not where they should be are advised to visit their doctor for an insulin adjustment.
Related Posts
Comments
About the Author
Julie Nakis, health enews contributor, is manager of public affairs at Advocate Children's Hospital. She earned her BA in communications from the University of Iowa – Go Hawkeyes! In her free time, she enjoys spending time with friends and family, exploring the city and cheering on the Chicago Cubs and Blackhawks.