Your hand sanitizer: Effective or harmful?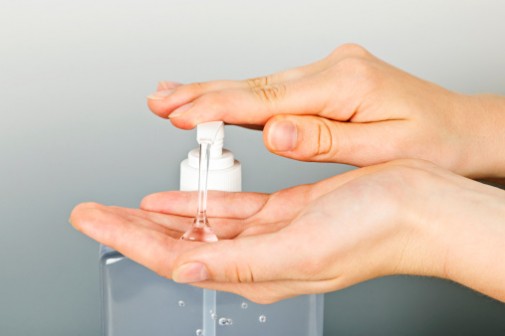 Hand sanitizer stations are everywhere these days from the mall, to your local grocery stores, airports, hotels, hospitals and more. The goal is to help keep people from spreading germs that can make them and others sick. 
Many of us have also adopted the habit of keeping hand sanitizer in our homes and carrying around mini bottles in our bags—whipping them out before meals or a snack. 
But lately rumor has it that the clean feeling you get after slathering your palms in some hand sanitizers may be just that…a feeling. The concern stems from the main antibacterial ingredient found in non-alcoholic hand sanitizers, triclosan. 
Triclosan is a synthetic compound, widely used for its antimicrobial, antifungal, and antiviral properties. It is also found in a number of consumer products including: antibacterial soaps, deodorants, toothpastes and cosmetics, furniture, toys, kitchenware and clothing. According to the Food and Drug Administration, it is not considered hazardous to humans.
"It is a valuable product when used in hospitals to inhibit growth of organisms and has been shown to prevent infection in hospitals," said Dr. Stuart Levy, professor of microbiology at Tufts University School of Medicine, who has conducted studies on triclosan's safety in household products. "But the use of the chemical in household products is not the place it should be used."
In a statement to CNN, Allison Aiello, associate professor of epidemiology at the University of Michigan said, "there's no good evidence that triclosan-containing products have a benefit." The good news, Aielleo notes is that hospitals in the United States don't use sanitizers that contain triclosan because it's thought that they are not effective at reducing infections or illness. 
This school of thought is also backed-up by experts at the Centers for Disease Control and Prevention (CDC). Dr. Anna Bowen, a medical epidemiologist with the CDC told CNN, "Triclosan-containing products don't provide any disease protection beyond what you get from washing with soap and water."
Even more concerning is research that has shown triclosan can actually disrupt the endocrine system and boost testosterone. And some studies have found that it may also harm the immune system.
For these reasons many experts suggest you opt for alcohol-based sanitizers instead. According to the CDC, hand sanitizers that contain 60 percent alcohol are best for killing bacterial pathogens. They can also kill some but not all viruses. Downers Grove, Ill.-based health system, Advocate Health Care uses only alcohol-based hand sanitizers in all facilities.
You should also know that alcohol-based sanitizers work best on visibly clean hands if you can't make it to the sink to wash up.
"In addition to the alcohol-based sanitzers used at Advocate, triclosan can be found in the antimicrobial soaps, as a health system, we continue to evaluate alternatives as they come available," said Donna Currie, director of clinical outcomes at Advocate. "It's important to note that the reported information in the CNN article is targeted to the consumer, outside of health care settings."
Bottom line…all this information is a good reminder that good ole-fashioned hand washing is still the best option. It's proven to be both safe and effective. But you have to do it properly.
Below are five hand washing steps from the CDC website:
Wet your hands with clean, running water (warm or cold).
Lather your hands soap by rubbing them together. Be sure to lather the backs of your hands, between your fingers, and under your nails.
Scrub your hands for at least 20 seconds.
Rinse your hands well under clean, running water.
Dry your hands using a clean towel or air dry them.
Remember, if you need help with timing to make sure you get the recommended 20 second scrub, the CDC recommends singing the "Happy Birthday" song two times through.
Related Posts
Comments
About the Author
health enews staff is a group of experienced writers from our Advocate Health Care and Aurora Health Care sites, which also includes freelance or intern writers.