Diabetes screenings for all pregnant women?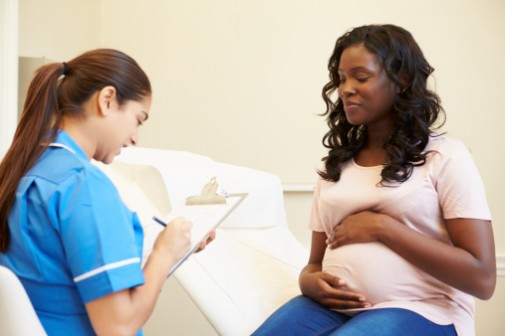 In an effort to minimize risks for both mom and baby, the U.S. Preventive Services Task Force is recommending gestational diabetes screenings for all pregnant women.
According to the new recommendations, published in the journal Annals of Internal Medicine, expectant mothers should be screened at 24 weeks of pregnancy regardless of symptoms.
Caused by hormonal changes during pregnancy, gestational diabetes can lead to complications, such as an increased risk of cesarean section, preeclampsia and excessive growth of the fetus. According to the most recent statistics from the Centers for Disease Control and Prevention (CDC), gestational diabetes rates range from two to 10 percent in the United States.
"We have been performing universal screenings on patients for years," says Dr. Carol Korzen, obstetrician/gynecologist on staff at Advocate Sherman Hospital in Elgin, Ill. "While this is an official recommendation, it isn't a huge departure from our current practices. Twenty-four weeks is the timeframe when the most women can be diagnosed and treatment can still be taken to prevent complications."
According to Dr. Korzen, a patient is typically screened at 24-28 weeks unless the patient has risk factors, such as being overweight or obese prior to pregnancy or having a parent or sibling with Type 2 diabetes. In these cases, the expectant mother is first screened at the beginning of pregnancy.
"The American Congress of Obstetricians and Gynecologists recommends gestational diabetes screenings based on risk factors," Dr. Korzen says. "With obesity levels increasing in this country, many women would now meet the prerequisites for screening."
Treatment for gestational diabetes varies based on a woman's blood sugar levels, Dr. Korzen explains. Women can often manage the condition with a dietary program and exercise, although oral medications or insulin injections may be necessary.
To help prevent gestational diabetes, women should reach a healthy weight before becoming pregnant.
"Being at a normal weight category or BMI (body-mass index) will help to reduce a woman's risk," Dr. Korzen says. "A key part of managing gestational diabetes is regular exercise during pregnancy."
Women who have had gestational diabetes are also at higher risk of developing Type 2 diabetes in the future. In fact, they have a 35-60 percent greater chance of Type 2 diabetes compared to women who never had gestational diabetes, based on statistics from the CDC.
"Women who have gestational diabetes are instructed to undergo another diabetes screening test six to 12 weeks after their baby is born," Dr. Korzen says. "We ask them to report this information to all of their future doctors so they can continue to be screened for diabetes in the future."
Related Posts
Comments
About the Author
health enews staff is a group of experienced writers from our Advocate Health Care and Aurora Health Care sites, which also includes freelance or intern writers.