Danger of alcohol in early weeks of pregnancy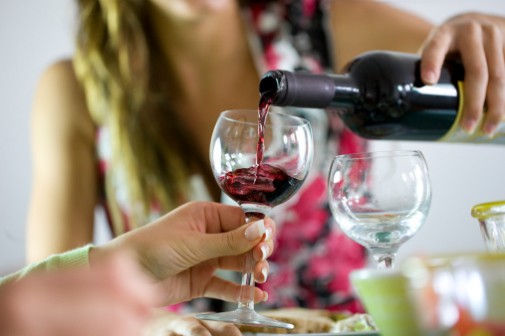 Most women aren't aware of the exact moment they become pregnant. In fact, nearly 50 percent of pregnancies are unplanned, according to the Centers for Disease Control and Prevention. As a result, a woman with an unplanned pregnancy may still engage in unhealthy behaviors, such as drinking alcohol, in the beginning.
A new study reinforces the dangers of drinking alcohol while pregnant—especially in the first few weeks after conception.
According to the study, published in the journal PLoS One, women who drink moderate or heavy levels of alcohol in the early stages of pregnancy may damage their placenta, an organ that is essential for a baby's development in the womb. Moderate drinking was defined as two to three drinks per day, while heavy drinking was defined as four to six drinks.
Researchers found that alcohol reduced cell growth in the placenta in the first few weeks of pregnancy, a timeframe when cell layers begin to develop into the baby's internal organs. Additionally, moderate to heavy levels of alcohol reduces the levels of the amino acid taurine delivered between mom and baby via the placenta.
According to Dr. Brad Epstein, obstetrician-gynecologist on staff at Advocate Sherman Hospital, taurine is essentially the building block of a baby's neurological development.
"A baby's neurological system develops continually throughout the entire pregnancy," Dr. Epstein says. "Drinking alcohol during pregnancy may cause amino acid deficits thereby preventing healthy neurogenic development."
Women who drink during their pregnancy are at risk of giving birth to a baby with Fetal Alcohol Spectrum Disorder (FASD), Dr. Epstein explains. FASD is an umbrella term for the possible physical, behavioral and mental conditions that the baby may develop. These include learning disorders, speech and language delays and mental disorders such as attention deficit disorder (ADD) and attention deficit hyperactivity disorder (ADHD), Dr. Epstein notes.
For women who are trying to conceive, this study emphasizes the importance of avoiding alcohol even before becoming pregnant.
"Since many women don't know they're pregnant until two, three or four weeks into their pregnancy, I always tell my patients not to drink if they are trying to conceive," Dr. Epstein says. "While some studies suggest a small amount of alcohol, such as a half-ounce here and there, isn't harmful, the reality is that alcohol is a toxin and should be avoided."
Related Posts
Comments
About the Author
health enews staff is a group of experienced writers from our Advocate Aurora Health sites, which also includes freelance or intern writers.