My heart attack took me by surprise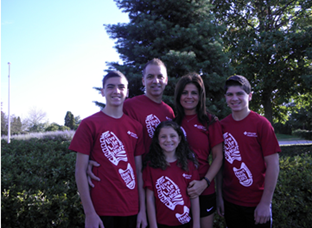 I am a pretty regular guy. I have lived in Woodridge, Ill. with my family for the past 15 years—and worked as a trader at the Chicago Mercantile Exchange for two decades. My wife, Mina, is a hair stylist and we have two teenaged sons, Victor and Michael, and an 8-year-old daughter, Danielle.
I don't smoke, and I eat a healthy diet. I am not obese or diabetic, and there is no history of heart disease in my family. But a year ago—at age 44—I suffered a heart attack.
At the end of my work day, I hopped on the 4:28 p.m. express train. The train was jam-packed, so I sat on the stairs. I soon felt anxious and couldn't sit still. I wondered if I was having a panic attack. I began to sweat profusely, and begin feeling confused and afraid.
I called my wife at work and asked her to meet me at the train station and drive me to the hospital. Fortunately, she had a better idea: Mina called 911 and had an ambulance waiting at the Downers Grove stop where I got off. Paramedics rapidly assessed my condition and called in a cardiac alert to our local hospital, Advocate Good Samaritan Hospital.
They were ready for me.                                                               
At the hospital, I was bombarded by people sticking me everywhere. They were careful to explain what they were doing, but they kept moving really fast—I remember signing consent papers while I was being wheeled into surgery.
When my wife walked into the Emergency Room (ER), I was nowhere in sight, and a chaplain was walking toward her. Mina assumed the worst—and her heart sank. But she was quickly told that I was on the way to surgery and invited her to run along beside me.
As it turned out, my wife's quick thinking, the paramedics' cardiac alert call and that army of fast-moving, take-charge ER staff truly saved my life. Cardiologist Dr. Jordan Weinstein informed me that I had arrived with 100 percent blockage at my coronary artery. But thanks to him and the heart care team at Good Samaritan Hospital, I had a stent inserted to open up the artery in less than half an hour, and I was back at home just two days later.
I was soon enrolled in the cardiac rehabilitation program at Good Samaritan Hospital, which I attended for 12 weeks. At first, I got winded just walking. But after regular use of different exercise machines to get my heart rate up, I was able to resume my normal activities.
So today, I have a new normal. This brush with death was my awakening, a second chance to take better care of myself. These days, I work from home to reduce stress.  I do cross-fit training five to six days a week to both strengthen my core and give my heart a workout—and I'm in better shape than ever. I've always been a positive and energetic person, but I am even more so now.
I am living proof that a heart attack can happen to anyone.
Related Posts
Comments
About the Author
Victor Scumaci is a 45-year-old heart attack survivor from Woodridge, Ill., sharing his story in hopes to inspire and inform others.