Best exercises for aging joints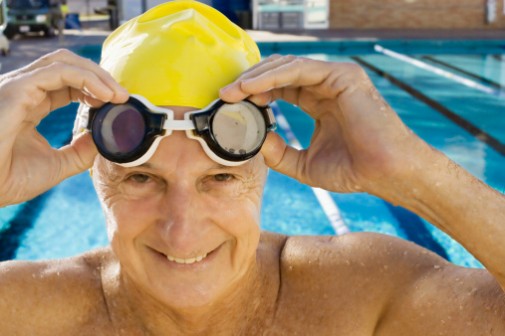 You didn't used to just walk up the stairs—you bounded, taking two stairs at a time. And that's nothing compared to how fast and far you could run—a 5k was cute, 10k a breeze, a marathon was more your speed.
However, as time wore on, the occasional dull aches and pains grew more persistent, sharper; your running times slipped and stayed "slipped"; the college players on TV looked much younger than you; and then it hit you—I'm actually older than I used to be.
So, welcome to middle-age.
As you age, muscle mass and bone density decrease and the cushioning in your joints wears down. When the cartilage in your joints deteriorates, this can cause arthritis—an inflammation of the joints that occurs as cartilage breaks down and bones rub together. Since this is a gradual process, you may just notice that as you age, your body doesn't perform at the same level it used to and aches linger a bit longer.
But take heart—aging doesn't necessarily mean stop doing what you've always done. Rather, it means you do it smarter, with greater attention to stretching and form.  
According to Dr. Joseph Meis, an orthopedic surgeon with Advocate Condell Medical Center in Libertyville, Ill., "When you were younger, you may have been able to work out or go for a run, and then move on to the next activity without any problems. But as you age, you need to focus more on stretching—both before and after your workouts. The older you get, the more stretching your body needs."
Stretching helps to maintain joint flexibility as your tendons and ligaments become less elastic as you age, according to the American Academy of Orthopaedics.
In addition, Dr. Meis, who has been a competitive cyclist for over 45 years, adds, "You may need to lower the intensity or nature of your workouts, as well. Any sport with a lot of pounding, stopping/starting and changing directions is going to be tougher for your joints to perform."
You used to play soccer and tennis, but now perhaps you need to adjust to some lower-impact, more linear exercises. Dr. Meis recommends the following activities:
Swimming
Yoga
Cycling
Walking, especially on lower-impact machines such as an Elliptical  
Cross-country skiing
 "There isn't necessarily an age-limit on your athletic pursuits—if you can still perform at certain activities or sports without any problems, then continue," he says. "But if you start experiencing pain that carries over into normal, everyday life, then you should speak to a physician."
Related Posts
Comments
About the Author
health enews staff is a group of experienced writers from our Advocate Aurora Health sites, which also includes freelance or intern writers.