6 reasons to try kale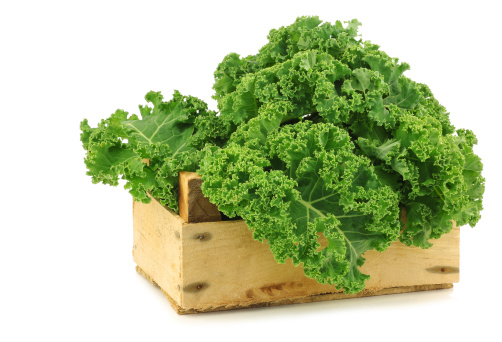 If you're looking to add a dose of health to your diet, consider adding some kale to your plate. This trendy superfood has earned a well-deserved reputation for upping your nutrition quotient many times over.
The list of kale's benefits is long, says Catherine LaBella, registered dietitian at Advocate Lutheran General Hospital in Park Ridge, Ill. The following six factors may give you reason to try this popular veggie is:
Low in calories
Low in fat
High in fiber
High in vitamins A, C and K
Rich in antioxidants
High in iron and calcium
Although kale is high in iron and calcium, LaBella points out that because of oxalates (a salt the body produces naturally), the iron and calcium may not be as well absorbed as if you were to eat meat or drink milk.
In addition to being high in all the right nutrients, adding it to your diet may help reduce LDL or bad cholesterol and lower your risk of heart disease as well.
There are two forms of kale: baby kale, which has smooth leaves and mature kale, which has curly ends. Either type can be easily added to create a variety of recipes. It can be used in a salad, made into chips, thrown in soups or even added to smoothies.
"If you buy baby kale, it's a lot more tender, and you can use it in things like salad. Mature kale is a lot more fibrous and harder to digest so that's often used in juices and smoothies," says LaBella.
"Some antioxidants are better absorbed with fats so it's better to have a healthy fat along with kale, such as olive or avocado oil," she adds.
Although kale has many bonuses, there are some things to be cautious about as well. LaBella says that kale is on the list of the so-called Dirty Dozen, the 12 fruits and vegetables that tend to have large amounts of pesticide residues. "Since kale can be high in pesticides, proponents of organic eating suggest buying organic kale, otherwise be sure to wash it really well," she says.
Since kale is a cruciferous vegetable it has sulfur compounds, "which are good for you, but they may cause gas for some. So, for example, if broccoli and cauliflower make you gassy then so will kale," explains LaBella.
Lastly, patients who are on blood thinner medication such as warfarin or cumadin for such conditions as A-fib and stroke, can't have large amounts of kale because of its vitamin K component. "Vitamin K clots the blood so it interacts with blood thinners and decreases their effectiveness," says LaBella.
That doesn't mean kale is off-limits, however. "We don't tell people not to have kale, but we do tell them to restrict it and to have moderate portions throughout the week," says LaBella.
Despite some of the issues, LaBella still believes kale is a welcome addition to healthy eating. "I would consider it just one component of a healthy diet. Any greens are an excellent addition. For example, even though Swiss chard, collard and mustard greens are not as trendy as kale, they're still great sources of vitamins and antioxidants," she says.
Related Posts
Comments
About the Author
health enews staff is a group of experienced writers from our Advocate Aurora Health sites, which also includes freelance or intern writers.