How pets can boost owner's health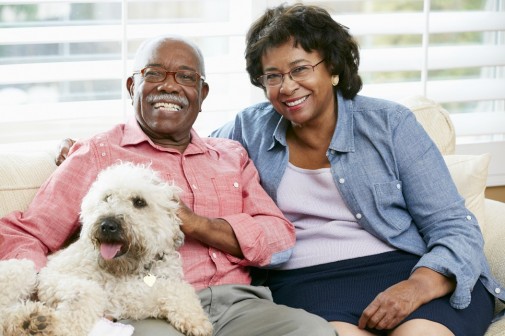 "A meow massages the heart," the author Stuart McMillan once wrote—and may offer many other health benefits as well. 
Research conducted over the past 25 years in different parts of the world, as well as substantial anecdotal evidence, suggest that owning a dog or cat offers many physical and psychological benefits. 
"Pets can decrease your blood pressure, cholesterol levels, triglyceride levels [and] feelings of loneliness," according to a statement from the Centers for Disease Control and Prevention. 
While the literature is not unanimous, there is a body of evidence supporting the notion that sharing your life with dogs or cats produces many health benefits for the owner. 
The positive connections between people and animals has been borne out in pet therapy programs at hospitals like Advocate Lutheran General Hospital in Park Ridge, Ill.
Barbara Lulias, volunteer coordinator at Lutheran General Hospital, started the program there seven years ago with her 90-pound Labradoodle, Sam, and later added 50-pound Chloe, a Portugese water dog. 
The program began in pediatrics and then expanded to seven other units in the hospital, says Lulias, who has worked at Lutheran for 25 years. 
"Other units started requesting it when they saw the great interaction of the dogs and the children," she says. "Children will do things for dogs sometimes they won't do for nurses or parents." 
Lulias says, for example, one child who had surgery refused to get out of bed because of the pain, despite the physical therapist's attempts to coax him out of bed. Lulias and Sam went to the room and she asked the patient to help her walk the dog. That did the trick. He got out of bed, helped Lulias put a new leash on Sam, and joined her and the physical therapist in a walk up and down the hall. 
In some cases with very sick or very frightened children, certain dogs are allowed to get onto the bed with the patient. Lulias says this helps when a child is having a procedure done and can hang onto the dog for comfort and support. The dogs used for this purpose are like Chloe—especially calm, relatively small and trained not to wiggle around or make movement. 
"Children just love her," Lulias says. "They hug her and pet her." 
All dogs in the program are certified as therapy dogs by Rainbow Animal Assisted Therapy, a private nonprofit organization that works in more than 150 hospitals, schools and other facilities throughout the Chicago area. Each dog goes through special training to ensure it has the right temperament for the program and can handle the busy environment of a major hospital. 
Lulias and her dogs, plus 17 other volunteers with a total of 26 certified dogs, are at Lutheran General every day except Sundays for scheduled visits and activities. 
Any interactions between a patient and a dog must be approved by the physician, and in the case of pediatric patients, their parents or guardians. A child life specialist also accompanies the dog and its handler in visits to a pediatric patient. 
The work has been incredibly rewarding, says Lulias. "The relationship between the dog and a child, when you see them smile when you walk in the room, that's your reward for the day," Lulias explains. "They talk about their dog. It takes their mind off being in a hospital for a few minutes."
Related Posts
Comments
About the Author
health enews staff is a group of experienced writers from our Advocate Aurora Health sites, which also includes freelance or intern writers.