Colon cancer a threat to younger people too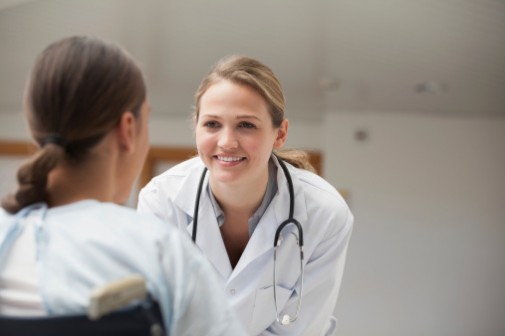 Colorectal cancer is often known as an older person's disease. While 90 percent of new cases are found in adults age 50 or older, the disease is slowly on the rise among younger people. In fact, a recent study finds that colorectal cancer is often more aggressive in young adults under the age of 40.
The research, presented at the 2013 European Cancer Congress in Amsterdam, analyzed more than 20,000 colorectal cancer patients who participated in 24 phase 3 clinical trials. The results showed that young adults under age 40 had a 30 percent greater chance of dying from the disease compared to 57-year-old patients. Compared to 61-year-olds, younger adults also had a 28 percent greater risk of disease progression.
According to study author Dr. Christopher Lieu, assistant professor of the University of Colorado, in a European CanCer Organization press release, "the most dramatic increases have been observed in the 20 to 29-year-old group where there has been an annual 5.2 percent increase in cases in men and a 5.6 percent increase in women, and in the 30-39-year-old group, where there has been an annual 3 percent increase in men and a 2 percent increase in women."
Colorectal cancer occurs in only 4.6 percent of people under age 50. According to most recent statistics from the American Cancer Society (ACS), the number of young adults diagnosed with colorectal cancer has slowly increased over the years, from 8 per 100,000 young adults ages 20-49 in 1992 to 10 per 100,000 in 2007.
According to Dr. Shahid Ali, gastroenterologist at Advocate Sherman Hospital, Elgin, Ill., young people diagnosed with colon cancer typically have a hereditary gene causing the disease. The two types of hereditary colon cancers include hereditary nonpolyposis colorectal cancer (HNPCC) and familial adenomatous polyposis (FAP). Dr. Ali acknowledges that gastroenterologists are diagnosing more genetically linked colon cancers than ever before.
"Knowledge is increasing on these hereditary types of colon cancer, and as a result, more people are getting screened," Dr. Ali says. "Gastroenterologists are also inquiring about family history of colon cancer and other forms of cancer. This helps to increase the diagnosis of these hereditary types of colon cancers."
The reasons why colon cancer is increasing in younger people is unclear. The ACS suggests that growing obesity rates and unhealthy eating habits may be contributing to this trend. "Obesity can increase a person's risk of a variety of health problems, including colon cancer, diabetes and hypertension," says Dr. Ali. "Colon cancer is particularly common in the United States due to the sedentary lifestyle and faulty dietary habits."
Related Posts
Comments
About the Author
health enews staff is a group of experienced writers from our Advocate Aurora Health sites, which also includes freelance or intern writers.